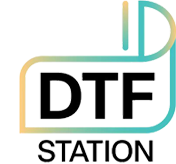 Backordered
Create rich colored DTF prints with DTF Station film. This film offers a high Ink loading layer, allowing you to lay down more color/white to achieve vibrant prints. Print your design on the single sided matte film and peel warm reducing any long wait times.
Optimize Your Workflow
Performs best when using ColorMax Ink with DTF Station Powder.
DTF STATION WARM PEEL DTF FILM - A3+ (13") ROLL