EXPANDED SUBLIMATION STARTER PACKAGE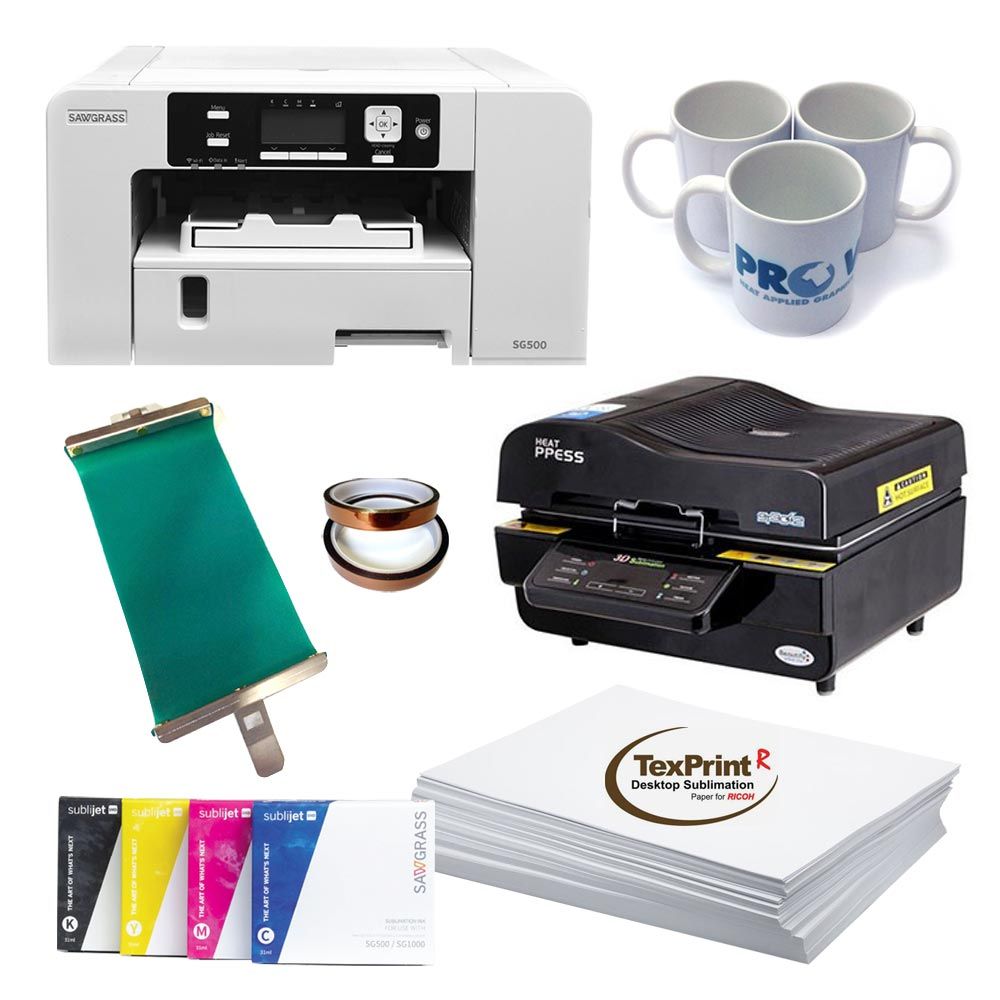 Get started with our expanded sublimation package and save over $96 (compared to purchasing items separately). Package includes everything you need to start making money with personalized products.
3D Sublimation Vacuum Heat Press
The 3D sublimation vacuum press is an all-in-one machine, which can be used to customize many types of substrates like sublimation blanks, mugs, latte mugs, plates, etc.
High Performance Sublimation Printer
The SG500 has the compact footprint and rugged reliability of its predecessor, the SG400, but has been updated from the inside out. In addition to design improvements such as a single roll-bar, the SG500 is more energy-efficient, prints with higher resolution, and offers WiFi connectivity. This means you'll enjoy higher quality products and greater ease of use, at a price comparable to the previous model. We recommend using Texprint-R paper for the best results.
Inks, Paper, Sublimation Blanks & More
You get a set of 4 color (CYMK) SubliJet-UHD Ink standard-capacity full cartridges, 110 sheets of our 8.5" x 11" sheets of TexPrint-R sublimation paper, blank mugs, a mug wrap, and heat sensitive tape.
FREE CreativeStudio
CreativeStudio is the easy-to-use Online Designer and Stock Design Library that lets you create designs from your computer or tablet on any OS. With hundreds of templates, thousands of images to choose from you can download virtual samples for e-commerce or customer approval. There is a full catalog of sublimation blanks at your fingertips and there is no desktop graphics software or clip art to buy.
Features
More Information

| | |
| --- | --- |
| SKU | BUN-004 |
3D Sublimation Vacuum Heat Press
Can print on mug, glass, crystal, acrylic, plastic, wood, metal, stone, fabric, etc.
Can print on mugs of different shape and size with corresponding fixtures.
Well-designed user interface.
Easy operation. Only needs to set the temperature and time.
Needs no operations other than placing the workpieces in and taking them out.
Large volume: 300 x 420 x 110 (mm).
Can print 8 mugs at one time.
Package includes: 2- 11oz mug wraps, and a 15oz mug wrap, replacement silicone sheet and tubing, a pair of gloves, and a wire rack.
Uneven dot surface enlarges the heating area.
Box dimensions: 27" x 22" x 16".
Die casting aluminium alloy and far-infrared coating.
Even heating.
Clear print effect; accurate color rendition.
Made of flame-resistant heat insulating materials.
Safe, light, and streamline heat insulating strip.
Compact practical internal structure.
108° flip design, easy operation, space saving.
Built-in high performance acticarbon air filter.
Effectively filter the exhaust gas.
Long exhaust pipe.
Software & hardware dual control of temperature. Each one will - start automatically once the other one is failure.
Box dimensions: 27" x 22" x 16".
SG500 Features
WiFi Capability
2 year warranty
Backlit LCD screen
Single roll bar to eliminate paper jams
Aluminum encoder strip which reduces dust accumulation
Full ink cartridges (31 ml) included with initial purchase
Deeper rich black coloring
Unlimited technical support provided by Sawgrass' technical support team.
Performs its own automatic maintenance cycle for trouble-free printing.
Maximum Media Size: SG500 - 8.5" x 14"
Print Speeds

High Speed (600 x 600 dpi): 15 seconds
High Quality (600 x 600 dpi): 29 seconds
Adv. Photo (1200 x 600 dpi): 48 seconds
Ultra Fine Photo (4800 x 1200 dpi): 6min 40 seconds

Ink Set: SubliJet-UHD -CMYK
Maximum Resolution: 4800 x 1200 dpi
Media Tray: 250 Sheets
Ink Delivery System: High-Capacity Cartridges
Options: 100 Sheet Multi-Bypass Tray; (2) 250 Sheet Paper Feed Units
System Requirements to run Sawgrass Print Manager
Windows Operating System (a 64-bit operating system is required)
Recommended: Windows 10
Minimum Required: Windows 8
Apple OSX / MacOS Operating System (a 64-bit operating system is required)
MacOS 10.13 - 10.15
Minimum RAM: 4GB
Recommended RAM: >8GB
Minimum CPU: Dual Core CPU
Recommended CPU: Quad Core or greater
Minimum Free HDD Space: 10% Free
Minimum Screen Resolution: 1024*768 pixels at 100% zoom
Wi-Fi Requirements
Sawgrass Creative Studio Software
Resources