ECONO MUG STARTER PACKAGE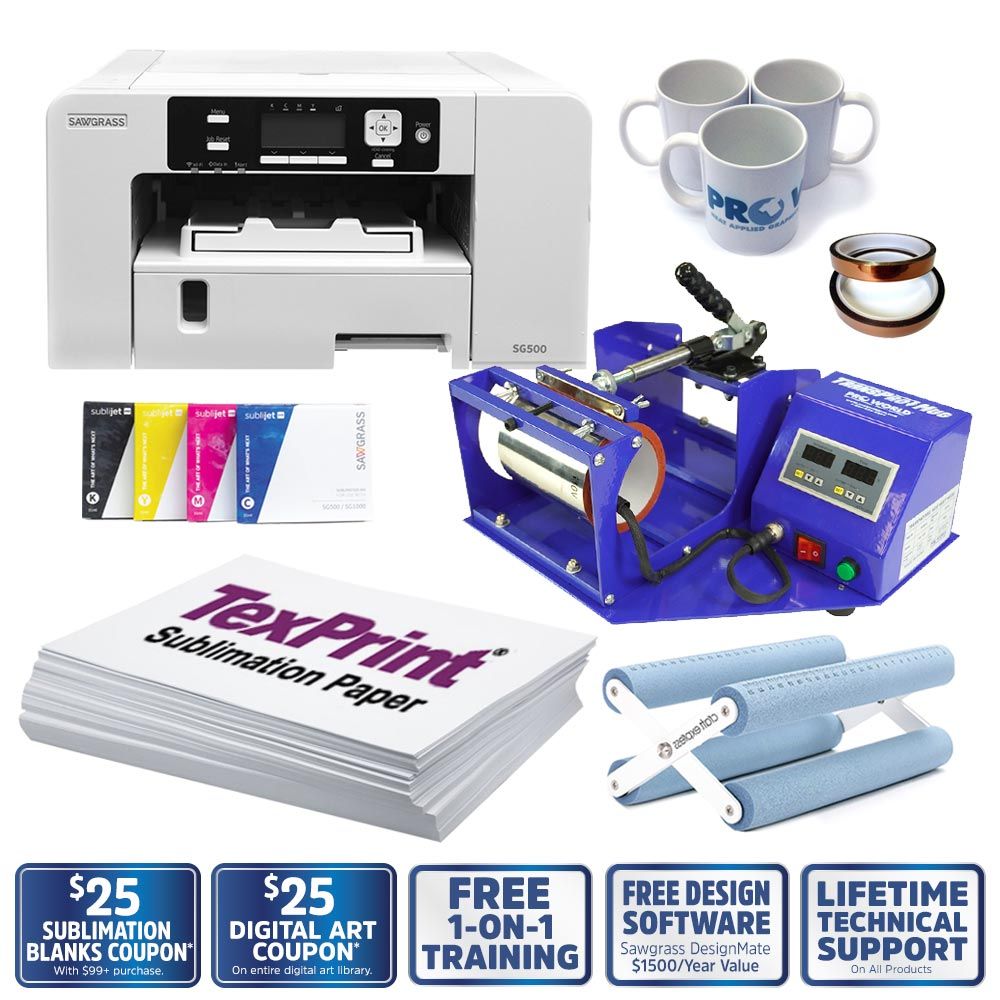 As low as
$999.00
Regular Price
$1,058.74

$59 Savings

$50 In Coupons
Free Shipping
The Econo Mug Starter Package includes all the tools you need to start making mugs and other drinkware. The versatile Transpro 3-in-1 Mug Press includes 3 different heating elements. Use the standard heating element to print 11oz and 15oz mugs as well as other straight-sided tumblers. Use the small latte heating element and large latte heating element to print large and small flared latte mugs, travel mugs, and more. Additional shot glass and skinny tumbler heating elements are also available (sold separately).
High Performance Sublimation Printer
The SG500 has the compact footprint and rugged reliability of its predecessor, the SG400, but has been updated from the inside out. In addition to design improvements such as a single roll-bar, the SG500 is more energy-efficient, prints with higher resolution, and offers WiFi connectivity. This means you'll enjoy higher quality products and greater ease of use, at a price comparable to the previous model. We recommend using Texprint DT paper for the best results.
TransPro® 3-in-1 Mug Press
The 3-in-1 mug press means you no longer have to buy separate heating elements or mug presses in order to press different drinkware. This mug press includes heating elements for 11oz, 15oz, latte mugs, and most water bottles.Additional elements (sold separately) include Shot Glass Heating Element and 20oz Skinny Tumbler Heating Element.
Sublimation Blanks and Materials
You get an adjustable tumbler cradle, a set of 4 color (CYMK) SubliJet-UHD Ink standard-capacity full cartridges, 110 - 8.5" x 11" sheets of TexPrint sublimation paper, 36 blank sublimation mugs, and thermal tape.
FREE DesignMate Software
Access hundreds of free, customizable templates and tools to create eye-catching sublimation designs with ease. Transform your ideas into stunning masterpieces and elevate your sublimation projects with DesignMate. Check out DesignMate+ to unlock even more features, tools and templates.
Features
More Information

| | |
| --- | --- |
| SKU | BUN-062 |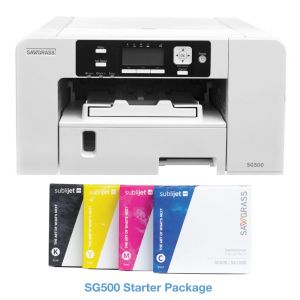 SG500 Features
Included In Package
Print size: 8.5" x 14"
Wi-Fi Capability
2 Year Warranty
Backlit LCD screen
Deeper Rich Black Coloring
Unlimited technical support provided by Sawgrass' technical support team.
Ink Set: SubliJet UHD - CMYK
Maximum Resolution: 4800 x 1200 dpi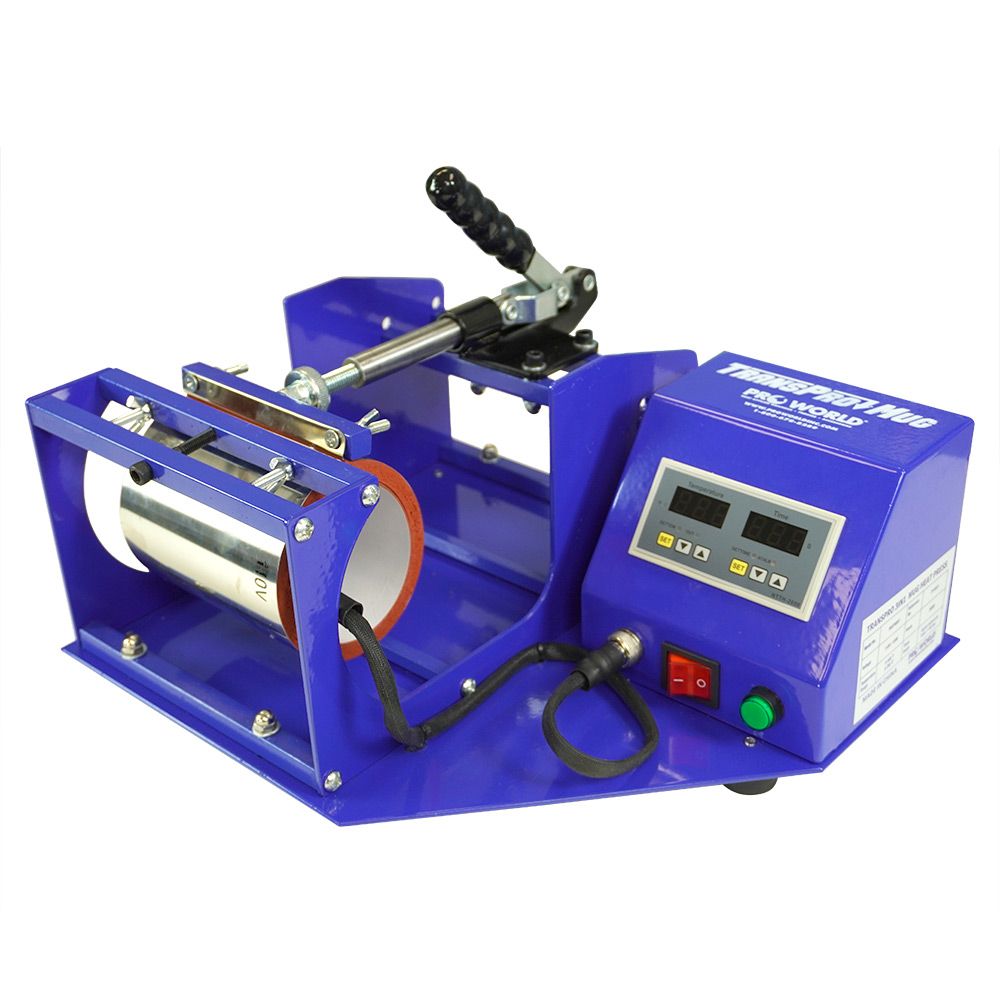 TransPro 3-in-1 Mug Press Features
Included In Package
Round Mug Diameter: 81mm/11oz, 75mm, 65mm
Designed For Maximum Pressure.
Automatic Reset Digital Timer
Digital Temperature Control
Heavy Duty Silicone Rubber Pad
Easy To Set Pressure Control
System/Hardware Requirements For Sawgrass Print Manager
Memory (RAM): 4GB required, 8GB or greater recommended.
Processor (CPU): Dual Core CPU, Quad Core or greater recommended.
64-bit processor is required. Intel or AMD (Apple M1 supported non-natively through Rosetta integration).
Available Hard Drive Space: 10GB or greater free.
Screen Resolution: 1024x768 pixels at 100% zoom or greater.
Internet Connection: Required to register DesignMate software.
Windows Operating Systems Supported: Windows 8.1, Windows 10, Windows 11
Mac Operating Systems Supported: MacOS 10.13 (High Sierra), MacOS 10.14 (Mojave), MacOS 10.15 (Catalina), MacOS 11.x (Big Sur), MacOS 12.x (Monterey), MacOS 13.x (Ventura)
Sawgrass Print Manager & DesignMate Software
Coupons Included
$25 Off sublimation blanks order of $99 or more.
$25 Off all digital art.
1 coupon per order. Cannot be combined with other coupons or promotions. The entire value of the coupon must be used on a single order.