Make Money with Dye Sublimation Printing

Sublimation printing allows businesses to create customized and personalized full color products on demand. Sublimation printing has been around for decades, but it wasn't until recently that it became an economical and practical way to decorate a variety of products.
The production technique is relatively simple. When sublimation inks are heated to 400°F, they turn into a gas and form a permanent bond to 100% white or light color polyester fabric or items that have a polymer coating. The result is a premium full-color, photographic-quality image that will not crack, peel or wash away from the substrate.
Create Sublimation Products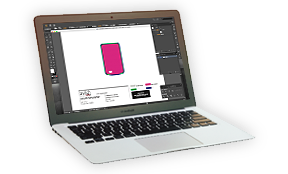 Step 1: Create
Create or import your artwork using a graphic program, like CorelDRAW® or Adobe® PhotoShop®.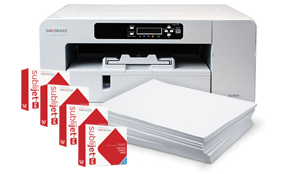 Step 2: Print
Print your image using SubliJet sublimation inks, a sublimation printer and high quality sublimation paper.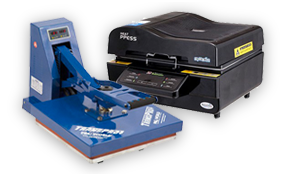 Step 3: Press
Using a standard flatbed, mug press or 3D vacuum heat press, transfer the image onto a wide variety of substrates.
Creating Your Design
This is a helpful hour long webinar on how to use the Sawgrass Sublimation printer and software to create and print your designs.
Pressing Your Design
This simple 3 minute video shows how you can apply your design to a physical product. In this example, a design is applied to a phone case.
View our full range of dye sublimation products and accessories.
Our Starter Packages that include what you need to get up and running fast!
Learn more about sublimation through articles and videos in our help section..