50% Off! Discount applied in cart.
Get 50% off any Thermoflex Plus Neon Vinyl. Add to cart to see discount.
ThermoFlex Plus Neon is a bright, vibrant and durable polyurethane based heat vinyl that is highly flexible. It has a soft hand and strong grip and if applied properly will outlast the life of the garment. It is available in large variety of colors. Most colors of ThermoFlex Plus vinyl may be applied in layers for multi-colored designs, with the exception of the neon colors, Antique Silver, Old Gold and Columbia Blue. These colors cannot have layers adhered on top of them, although we have successfully layered these products on top of other colors. Please Note: ThermoFlex Plus will NOT adhere to nylon. Be advised that dye migration has occurred with low energy dyes in polyester and poly-blend fabrics.
Thermoflex Plus Neon Vinyl By The Yard 20"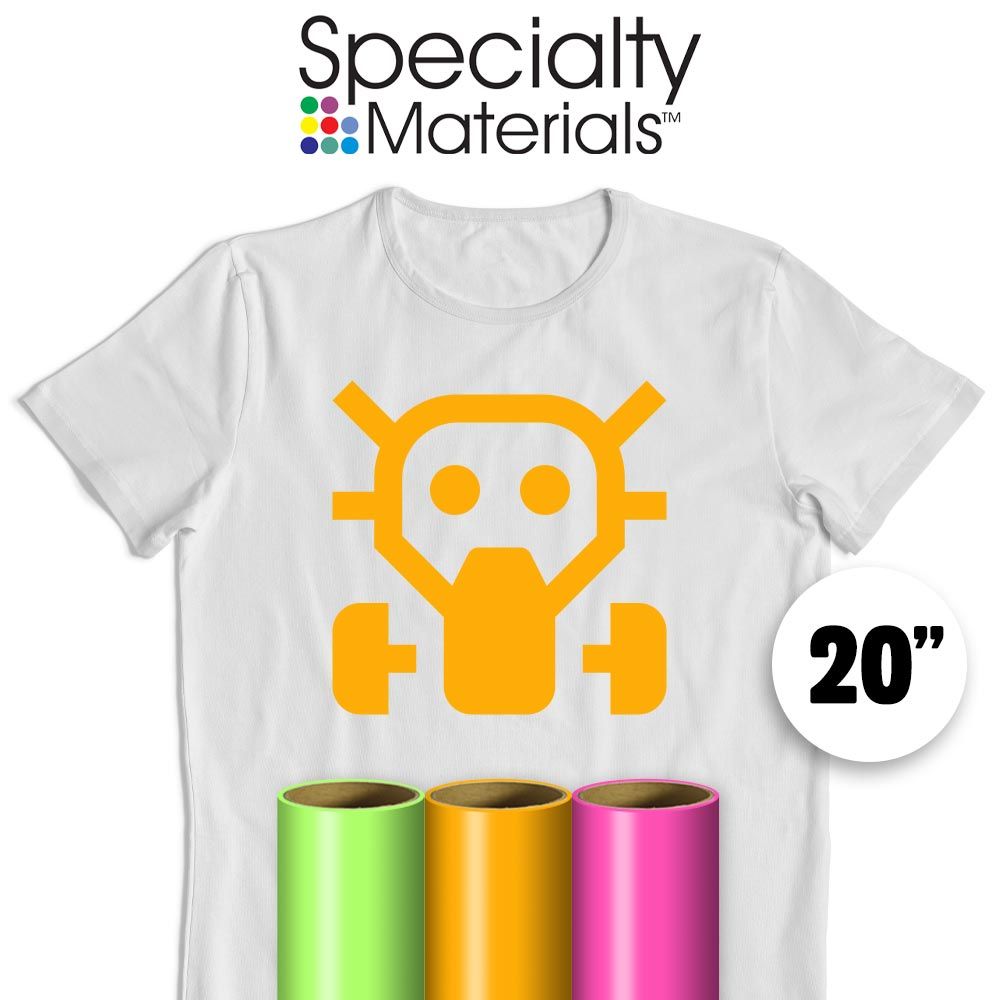 Features
More Information

| | |
| --- | --- |
| Brand | Specialty Materials |
| SKU | VN-TPN-Y-20 |
| Vinyl Application | Heat Applied |
| Vinyl Type | Neon |
| Finish | Matte |
| Transfer Vinyl Max Colors | Layering not recommended |
| CPSIA Certified | Yes |
| Home Iron Compatible | No |
| Transfer Vinyl Ideal Applications | Cotton/Poly Blends, 100% Polyester, Acrylic, Wool, Linen |
| Vinyl Thickness | 4 mils |
Features
Width: 20" (may vary in size)
Resources
ThermoFlex Plus Application Instructions
Application Instructions
Cotton, Polyester, Cotton/Polyester, Polyester/Acrylic
45 Degree Blade
Cut this material in Mirror image
330˚F - 335˚F
Medium to firm, even pressure
17-20 seconds
Peel warm.
For neons, Frosty Clear & Columbia Blue, peel cold and cover with a non stick sheet to repress for 5 seconds.
Wash warm, tumble dry normal.
Suitable for dry-cleaning