TRANSPRO HEAT PRESS AND JULIET CUTTER STARTER PACKAGE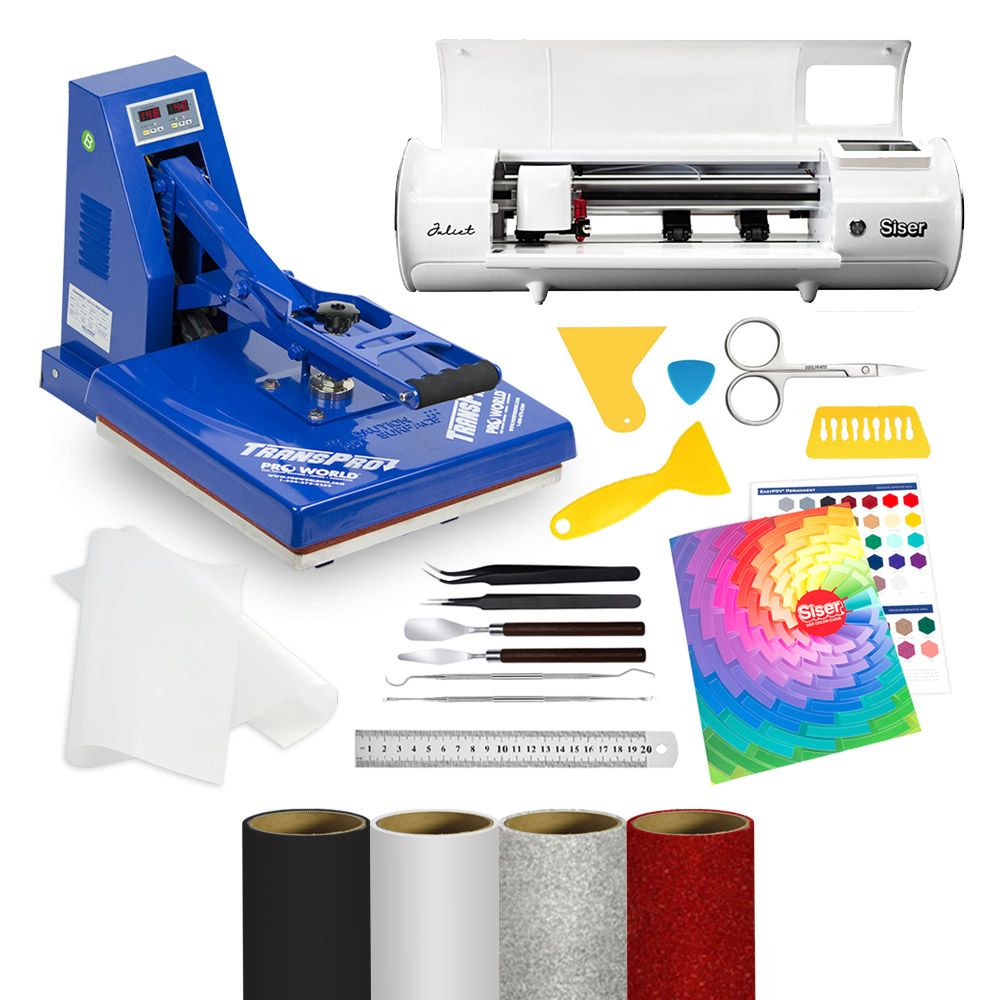 Transpro 15x15 Heat Press
This is the USA's most popular heat press with hundreds of 5-star reviews. The TransPro® 15x15 heat press is the perfect choice for the beginner or those looking for an additional high-quality machine. It is ideal for all heat-applied products such as transfers, vinyl, rhinestones, sublimation, etc. The many features include digital controls, 'easy turn' pressure adjustment, a nonstick heating surface, a silicone rubber base pad, and a comfortable, cushioned, handle. All are backed by a one-year warranty and the industry's best customer service.
Juliet™ 12″ High-Definition Cutter
Juliet may look innocent enough at first, but despite the compact size and sultry shine this high-definition cutter is a cut above the rest; you might even say she's at balcony level. From fine detail to extensive lengths, Juliet is capable of completing projects of all kinds so you can make more than ever before. The sleek touch screen includes Siser® specific presets along with a built-in registration camera, so you can print and cut with precision and accuracy. Customize your experience further with features that enable you to cut without a mat and from a roll, change cut settings on the fly, or even choose where your cut begins. If you're looking to get the best cutter on the market for the best vinyl out there, look no further than Juliet. Whether you're a beginning baron or a skillful lord of the decoration world, Juliet is your lady!
Powerful Software – Leonardo™ Design Studio
A powerful cutter is nothing without powerful software. That's why Leonardo™ Design Studio was created to be the perfect companion software to the Juliet™ cutter. Easily connect Juliet to Leonardo Design Studio via the included USB cable or a WiFi connection and you're ready to go!
The best part? Leonardo Design Studio isn't just cutting software – it's also an incredibly versatile workspace. use the built-in canvas and tools to create your own artwork from scratch, or download premade files from the extensive art library. You can also view swatches and specs for every Siser® material, get inspiration from our handmade projects, learn new skills with tutorial videos, and so much more – all within a single software!
Leonardo Design Studio is free with every Juliet purchase.
Features
More Information

| | |
| --- | --- |
| SKU | BUN-068 |
TransPro 15x15 Heat Press Features
Prints ALL types of heat transfers (including computer generated transfers) and lettering materials
Designed for maximum pressure
Automatic reset digital timer
Digital temperature control
Scratch-resistant, baked-on powder coat finish
Heavy duty silicone rubber base pad
Easy to set pressure control
Central Pressure Adjustment
Upper Floating Heat Platen
1200W, 11AMP
Maximum Pressure
More Heating Element Per Square Inch
Digital Automatic Timer 1-999S
Heavy Duty Design
Voltage: 110-120V, Press Temperature: 0-500F,0-260C
Brand New, Individual Wrapped with molded foam package with online User's Manual.
Shipping Weight: 68 lbs
Transpro Select Semi Auto 16 X 20 Features
Prints ALL types of heat transfers (including computer generated transfers) and lettering materials
Slide out drawer
Over 20 Quality Control checks
Designed for maximum pressure
Automatic reset digital timer
Digital temperature control
Scratch-resistant, baked-on powder coat finish
Heavy duty silicone rubber base pad
Easy to set pressure control
Central Pressure Adjustment
Upper Floating Heat Platen
12.5AMP
Maximum Pressure
More Heating Element Per Square Inch
Digital Automatic Timer 1-999S
Solid steel welded framework
Press Temperature: 0-450F
Brand New, Individual Wrapped with molded foam package
Online User's manual
Shipping Weight: 95 lbs
Transpro Plus 16X20 Semi-Auto Features
Platen Size: 16x20"
Pressure Display: Yes
Temperature Range: Max.430°F
Easy Assembly of the Control Box to the frame is required
Preheat: approximately 20 minutes to reach 356°F
"RAMLOCK" Quick Change System for interchangeable platens
Auto-sleep Mode
Over The Center Pressure Distribution
Threadable Lower Platen
Bottom Pad Cover and Non-Stick Sheet included
Slider-out Lower Platen
Interchangeable Control Box
Emergency Stop Button
Power(120volt): 1800W/16.4Amps
Auto-open/Manual: Optional. "Ramspin" system
Time Range: 0~999S
Interchangeable platens (sold separately): 4"x4"; 11"x15"; 8"x10"; 6"x20"; 6"x10"
Machine Size (open): 30x17x40"
Packing Size: 33x21x34"cm
Packing Weight: 120 lbs
1800W/ 8.2 AMPS
Certificate: CE,FCC
Juliet Cutter Features
Max Material Width: 13.5" and 24" for Romeo Cutter
Max Cut Length: 5+ Yards with Roll Holder
Compatible Materials: HTV, EasyPSV, Cardstock, Paper, Felt, etc.
Available Tools: 45° Blade, 60° Blade
Connectivity: WiFi, Direct via USB cable
Design Software: Leonardo™ Design Studio
Dimensions: 24.25in L x 7.75in W x 7.5in H
Weight: 15.5 lbs or 21lbs for Romeo cutter
Input Power:100-240V 1.5A (Input) 24V 2.7A (Output)
Precision: 0.01mm
Maximum Material Height: 1mm
Maximum Speed: 27in Per Second
Maximum Cutting Speed: 24in Per Second
Siser specific cutter settings
Cuts a variety of materials
Ultra quiet cutting
Adjustable pinch rollers
Wi-fi connections
Built in camera for registration
High definition cutting to 0.01mm
Can be used with sublimation markers
Included With The Juliet/Romeo
Cutter
Blade Housing
45° Blade (x2)
60° Blade
Siser® Sublimation Marker Adapter
USB Cable
AC Power Adapter
Instruction Manual
High Tack Cutting Mat
Sample Cover Sheet
EasyWeed® Sample Sheets (x2)
Resources