SUBLIMATION AND DRINKWARE BUSINESS PACKAGE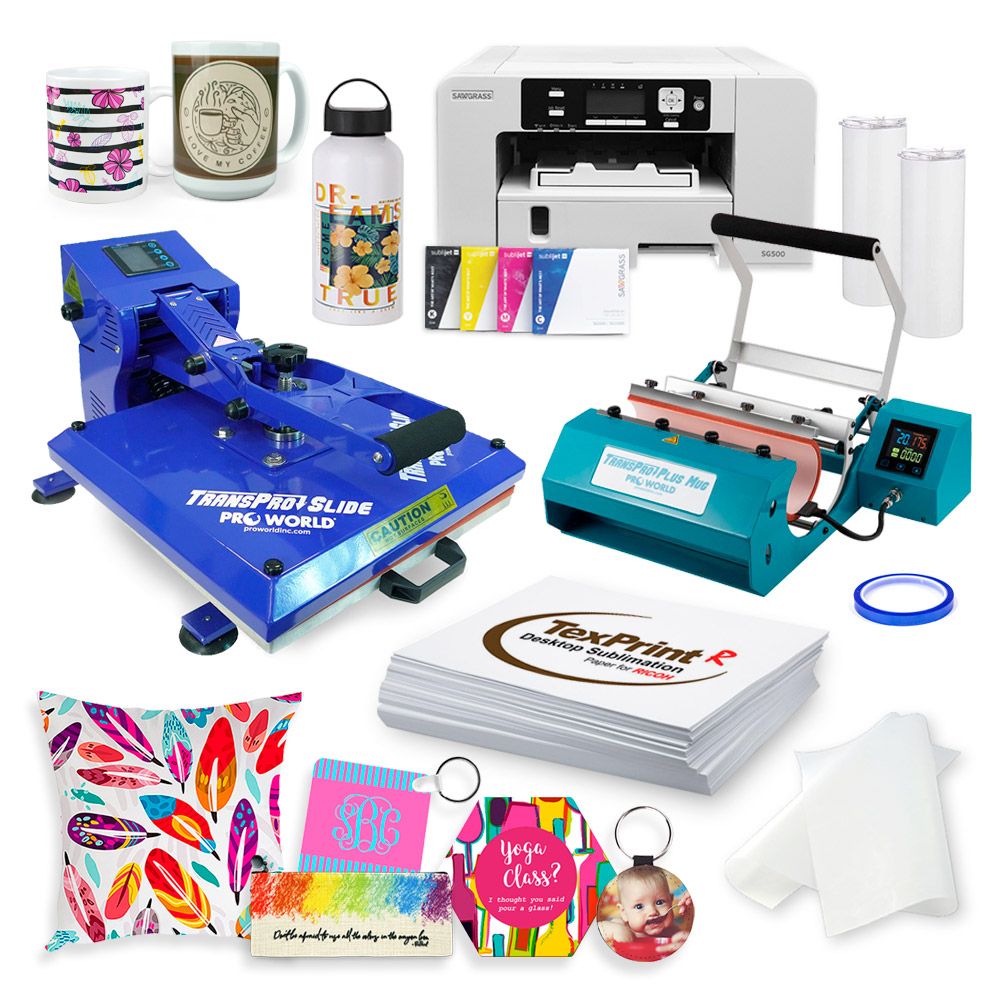 Get started with our popular bundle package and save over $76. (compared to purchasing items separately).
TransPro® Slide 15x15 Heat Press
USA's most popular heat press. The TransPro® We've taken the USA's most popular heat press and made it even better. The slide-out base feature allows for easy positioning of the product being printed and easy removal of the transfer after printing. The suction cup feet provide stability and secure positioning. The TransPro® 15x15 heat press is the perfect choice for the beginner or those looking for an additional high-quality machine. It is ideal for all heat-applied products such as transfers, vinyl, rhinestones, sublimation, etc. The many additional features include digital controls, 'easy turn' pressure adjustment, a nonstick heating surface, a silicone rubber base pad, and a comfortable, cushioned, handle. All are backed by a one-year warranty and the industry's best customer service.
TransPro Plus Mug Press
Our next generation of TransPro Mug Presses has arrived! The extra long heating element gives you the ability to easily print any size skinny tumbler - including a 20oz or 30 oz skinny tumbler! The digital control panel with colorful display is simple and the stable structure makes this machine light weight and easy to operate. This press also includes a standard mug heating element to print 11 oz or 15 oz mugs and 2, 20oz skinny tumblers to get you started. We also offer other interchangeable heating elements (sold separately) to expand the type of drinkware you can sublimate on. We offer a wide latte style for printing 15 oz tapered drinkware, and a larger standard style for printing on a 30oz tumbler.
High Performance Sublimation Printer
The SG500 has the pro-level print consistency and versatile dimensions of its predecessor, the SG400, but has been updated from the inside out. In addition to design improvements such as a single roll-bar, the SG500 is more energy-efficient, prints with higher resolution, and offers WiFi connectivity. This means you'll enjoy higher quality products and greater ease of use, at a price comparable to the previous model.
Sublimation Full Cartridge Inks Included
You get a set of 4 color (CYMK) SubliJet-UHD Ink standard-capacity (31ml) full cartridges. TextPrint paper sold separately
FREE CreativeStudio
CreativeStudio is the easy-to-use Online Designer and Stock Design Library that lets you create designs from your computer or tablet on any OS. With hundreds of templates, thousands of images to choose from you can download virtual samples for e-commerce or customer approval. There is a full catalog of sublimation blanks at your fingertips and there is no desktop graphics software or clip art to buy.
Features
More Information

| | |
| --- | --- |
| SKU | BUN-071 |
Transpro Slide 15x15 Heat Press Features
Prints ALL types of heat transfers (including computer generated transfers) and lettering materials
Designed for maximum pressure
Automatic reset digital timer
Digital temperature control
Slide out Drawer
Scratch-resistant, baked-on powder coat finish
Heavy duty silicone rubber base pad
Easy to set pressure control
entral Pressure Adjustment
Upper Floating Heat Platen
1200W, 11AMP
Maximum Pressure
More Heating Element Per Square Inch
Digital Automatic Timer 1-999S
Heavy Duty Design
Voltage: 110-120V, Press Temperature: 0-500F,0-260C
Brand New, Individual Wrapped with molded foam package with online User's Manual.
Shipping Weight: 68 lbs
Transpro Select Semi Auto 16 X 20 Features
Prints ALL types of heat transfers (including computer generated transfers) and lettering materials
Slide out drawer
Over 20 Quality Control checks
Designed for maximum pressure
Automatic reset digital timer
Digital temperature control
Scratch-resistant, baked-on powder coat finish
Heavy duty silicone rubber base pad
Easy to set pressure control
Central Pressure Adjustment
Upper Floating Heat Platen
12.5AMP
Maximum Pressure
More Heating Element Per Square Inch
Digital Automatic Timer 1-999S
Solid steel welded framework
Press Temperature: 0-450F
Brand New, Individual Wrapped with molded foam package
Online User's manual
Shipping Weight: 95 lbs
Transpro Plus 16X20 Semi-Auto Features
Platen Size: 16x20"
Pressure Display: Yes
Temperature Range: Max.430°F
Easy Assembly of the Control Box to the frame is required
Preheat: approximately 20 minutes to reach 356°F
"RAMLOCK" Quick Change System for interchangeable platens
Auto-sleep Mode
Over The Center Pressure Distribution
Threadable Lower Platen
Bottom Pad Cover and Non-Stick Sheet included
Slider-out Lower Platen
Interchangeable Control Box
Emergency Stop Button
Power(120volt): 1800W/16.4Amps
Auto-open/Manual: Optional. "Ramspin" system
Time Range: 0~999S
Interchangeable platens (sold separately): 4"x4"; 11"x15"; 8"x10"; 6"x20"; 6"x10"
Machine Size (open): 30x17x40"
Packing Size: 33x21x34"cm
Packing Weight: 120 lbs
1800W/ 8.2 AMPS
Certificate: CE,FCC
TransPro Plus Mug Press
30oz Skinny Tumbler size 11.8" heating element included
11oz/15oz Standard mug heating element included
Please note: If printing a design that wraps completely around a skinny tumbler, you will need to rotate the tumbler a quarter turn when printing to ensure the design is printed fully.
Power (120volt): 300W/2.8Amps
Temperature Range: Max.430℉
Time Range: 0~999S
Additional Interchangeable Platens Sold Separately
Machine Size: 14.5"x 12.5"x 9"
Packing Size: 17"x 15" x 12"
Certificate: CE, FCC
SG500 Features
WiFi Capability
2 year warranty
Backlit LCD screen
Single roll bar to eliminate paper jams
Aluminum encoder strip which reduces dust accumulation
Full ink cartridges (31 ml) included with initial purchase
Deeper rich black coloring
Unlimited technical support provided by Sawgrass' technical support team.
Performs its own automatic maintenance cycle for trouble-free printing.
Maximum Media Size: SG500 - 8.5" x 14"
Print Speeds

High Speed (600 x 600 dpi): 15 seconds
High Quality (600 x 600 dpi): 29 seconds
Adv. Photo (1200 x 600 dpi): 48 seconds
Ultra Fine Photo (4800 x 1200 dpi): 6min 40 seconds

Ink Set: SubliJet UHD -CMYK
Maximum Resolution: 4800 x 1200 dpi
Media Tray: 250 Sheets
Ink Delivery System: High-Capacity Cartridges
Options: 100 Sheet Multi-Bypass Tray; (2) 250 Sheet Paper Feed Units
SG1000 Features
WiFi Capability
2 year warranty
Backlit LCD screen
Single roll bar to eliminate paper jams
Aluminum encoder strip which reduces dust accumulation
Full ink cartridges (31 ml) included with initial purchase
Deeper rich black coloring
Unlimited technical support provided by Sawgrass' technical support team.
Performs its own automatic maintenance cycle for trouble-free printing.
Maximum media size:13" x 19" (bypass tray - sold separately) Without the bypass the printer can print 11x17
Print Speeds

High Speed (600 x 600 dpi): 15 seconds
High Quality (600 x 600 dpi): 29 seconds
Adv. Photo (1200 x 600 dpi): 48 seconds
Ultra Fine Photo (4800 x 1200 dpi): 6min 40 seconds

Ink Set: SubliJet UHD -CMYK
Maximum Resolution: 4800 x 1200 dpi
Media Tray: 250 Sheets
Ink Delivery System: High-Capacity Cartridges
Options: 100 Sheet Multi-Bypass Tray; (2) 250 Sheet Paper Feed Units
System Requirements to run Sawgrass Print Manager
Windows Operating System (a 64-bit operating system is required)
Recommended: Windows 10
Minimum Required: Windows 8
Apple OSX / MacOS Operating System (a 64-bit operating system is required)
MacOS 10.13 - 10.15
Minimum RAM: 4GB
Recommended RAM: >8GB
Minimum CPU: Dual Core CPU
Recommended CPU: Quad Core or greater
Minimum Free HDD Space: 10% Free
Minimum Screen Resolution: 1024*768 pixels at 100% zoom
Wi-Fi Requirements
Sawgrass Creative Studio Software
Resources: