TRANSPRO PLUS 16X20 HEAT PRESS + PLATENS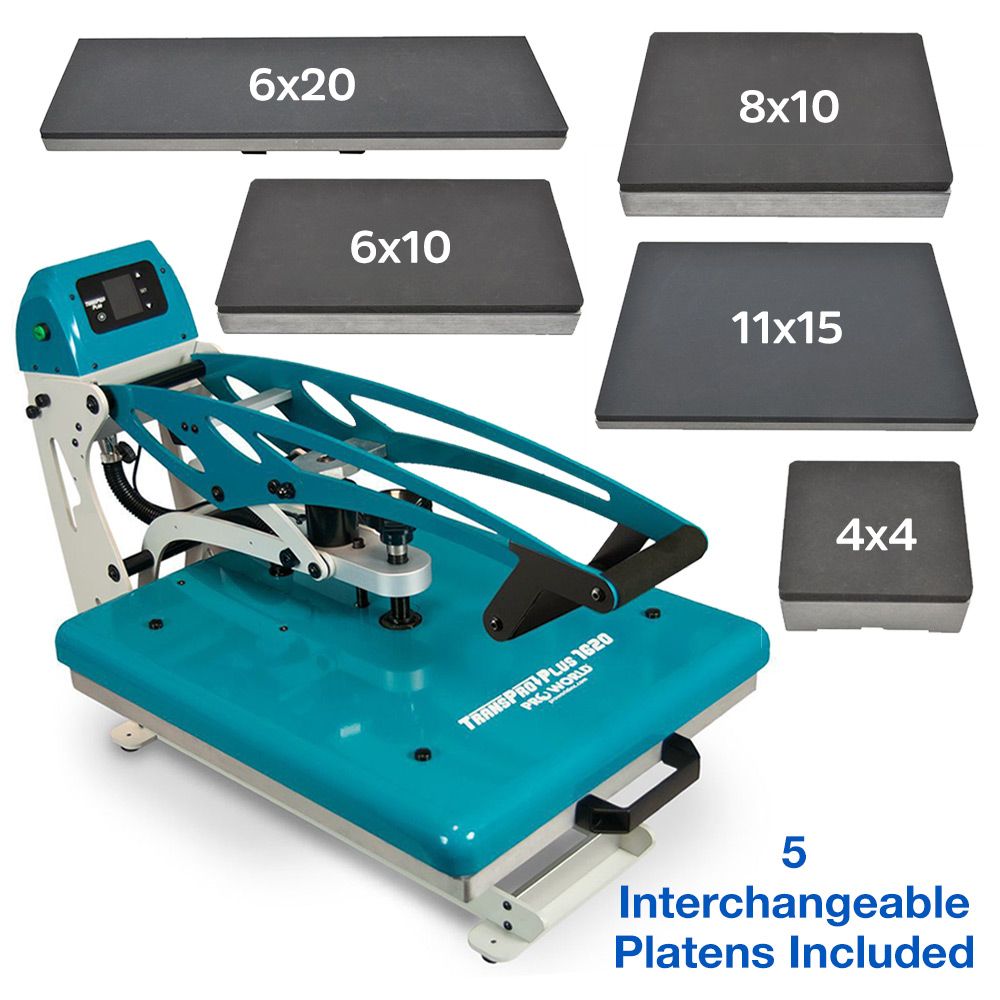 As low as
$1,609.00
Regular Price
$1,898.00
TransPro® Plus 16x20 Heat Press
The next generation of our TransPro Heat Presses has arrived! The TransPro Plus includes the best features of our TransPro Select line and so much more. This press offers a slide-out lower platen for easy access and the exclusive semi-auto release feature which can be changed to manual operation if needed. The press also features a pressure display ranging from 0-9 that can be set by the large pressure knob on the top of the platen.
5 Platen & Platen Covers In Different Sizes
Reduce the size of your 16x20 or 15x15 press area by using an interchangeable platen. Don't fuss with pressing pillows or perfect pads. Use an interchangeable platen to avoid seams, buttons, and zippers and speed up production time. Keep your platen protected with a non-stick platen cover. All of our platens use the quick change RamLock system.
Features
More Information

| | |
| --- | --- |
| SKU | BUN-073 |
TransPro Plus 16x20 Features
Platen Size: 16x20"
Fabric Platen Cover
Pressure Display: Yes
Temperature Range: Max.430°F
Easy Assembly of the Control Box to the frame is required
Preheat: approximately 20 minutes to reach 356°F
"RAMLOCK" Quick Change System for interchangeable platens
Auto-sleep Mode
Over The Center Pressure Distribution
Threadable Lower Platen
Bottom Pad Cover and Non-Stick Sheet included
Slider-out Lower Platen
Maximum product thickness: .78"
Interchangeable Control Box
Emergency Stop Button
Power(120volt): 1800W/16.4Amps
Auto-open/Manual: Optional. "Ramspin" system
Time Range: 0~999S
Interchangeable platens: 4"x4"; 11"x15"; 8"x10"; 6"x20"; 6"x10"
Machine Size (open): 30x17x40"
Packing Size: 33x21x34"
Packing Weight: 120 lbs
1800W/ 8.2 AMPS
Certificate: CE,FCC
Platens & Platen Cover Sizes
4x4 platen
6x10 platen
6x20 platen
8x10 platen
11x15 platen
4x4 platen wrap
6x10 platen wrap
6x20 platen wrap
8x10 platen wrap
11x15 platen wrap
Programmed Presets
Holding down the circle for 3 seconds will allow you to go to the presets until you reach the one you want.
Siser Easyweed: 305 F for 12 seconds
Supacolor and Siser Glitter: 320 F for 15 seconds
Hot Peel Transfer: 395 F for 10 seconds
Sublimation on Polyester: 400 F for 45 seconds
Sublimation on Aluminum: 400 F for 60 seconds
Resources