This Mirror vinyl has a metallic finish and adds a chrome It is suitable for application on cotton, polyester, acrylic and similar fibers. Width may vary in size. Please note that Metallic is a unique product and that cracking and delamination may occur after washing.
Chemica Mirror Vinyl By The Yard 20"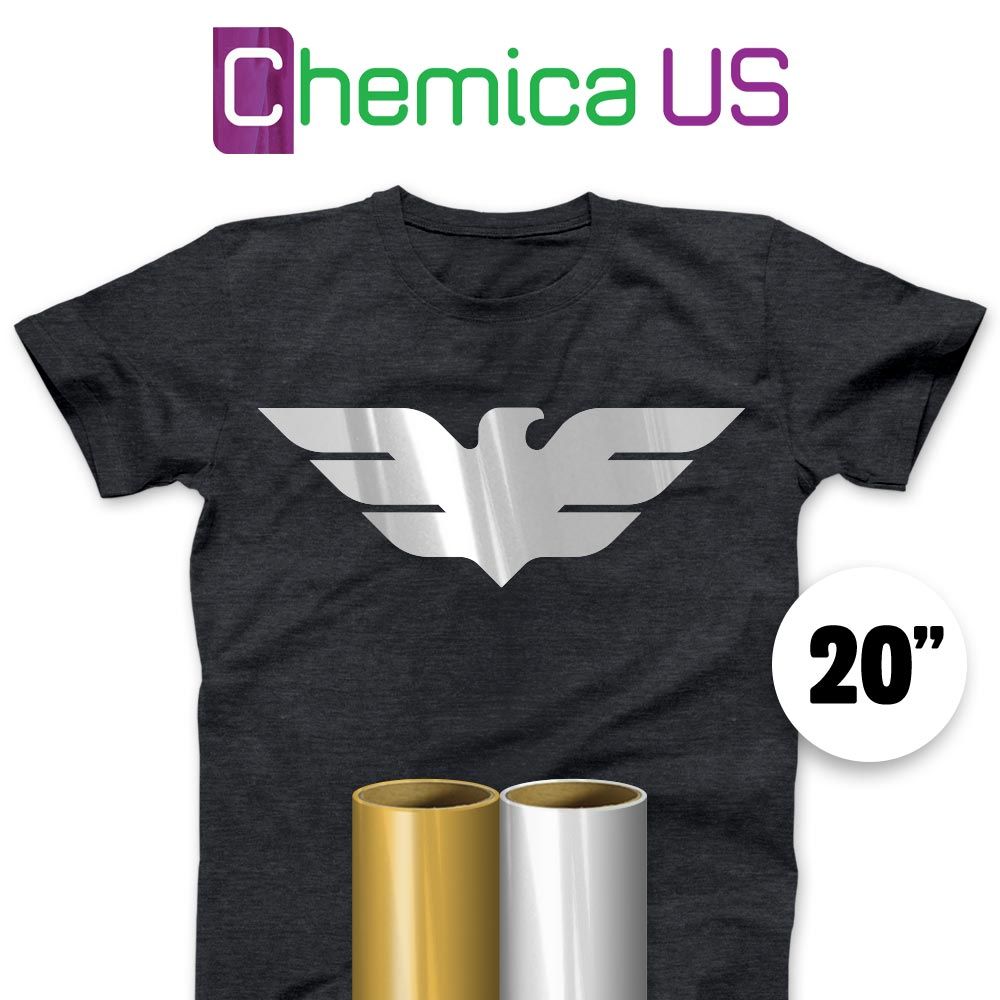 Features
More Information

| | |
| --- | --- |
| Brand | Chemica |
| SKU | VN-MR-Y-20 |
| Vinyl Application | Heat Applied |
| Vinyl Type | Metallic |
| Finish | Chrome |
| Transfer Vinyl Max Colors | Layering not recommended |
| CPSIA Certified | No |
| Home Iron Compatible | No |
| Transfer Vinyl Ideal Applications | 100% Cotton, Cotton/Poly Blends, 100% Polyester, Acrylic |
| Vinyl Thickness | 4 mils |
Specifications
This vinyl can be layered, except for Star pink
Width: 19.5" +/- (may vary in size)
Carrier: self-adhesive clear polyester
Maintenance
Washing: 40°C (USA 104°F) max. inside out - w/o bleach or aggressive washing products
Mirror vinyl: Cold hand wash
No tumble dry, no drycleaning
Ironing backside only
Store your rolls in a vertical position, up to one year in a dry room where there is no sunlight
Chemica Bling Bling Application Instructions
Application Instructions
Use with cotton, polyester, acrylic and similar fibres.
Cut material in reverse using a flex blade.
Weed the excess material.
320°F
Medium pressure.
Print for 20 seconds.
Peel the carrier off when cold.
After heat pressing, wait 24 hours before the first wash.
Do not use bleach or any aggressive washing products at 180˚F max.
Tumble dry.
Chemica Mirror for Cricut Cutters
Cutter Settings
Material Type: Vinyl+
Speed: 3
Pressure: 2
Blade: 2
Chemica Mirror for Graphtec Cutters
Cutter Settings
Tool: 09U
Force: 21
Speed: 5
Chemica Mirror for Mimaki Cutters
Cutter Settings
Chemica Mirror for Roland Cutters
Cutter Settings
Blad: 45°
Force: 185
Speed: 5