The UNINET DTF 1000 is an ink-based direct-to-film digital transfer printing system capable of printing up to 13" wide (A3+). It is best suited for the short-volume production of full color transfers for the digital apparel decorating market. This 13" print width, desktop-sized DTF printer is compact yet powerful, expertly configured with a roll feeder and capable of producing simple or intricate, colorful weedless digital transfers in a single pass.
As an optional upgrade, the UNINET DTF 1000 Auto Powder Unit can be paired to the DTF 1000 transfer printer to enable fully automated powder application, curing, and drying for a comprehensive printing solution. (UNINET DTF 1000 Auto Powder Unit sold separately)
Why Is The UNINET 1000 Printer So Great?
Printer Roll Feeder With Auto-Feeding Capabilities
Ink Tanks With Continuous Feed System
Bluetooth Humidity And Temperature Sensor
Internal Controllable Vacuum Suction (prevents film buckling)
White Ink Circulation Engine (helps circulate white ink)
The UNINET DTF 1000 System Includes:
High-Definition Professional Inkjet Printhead.
UNINET DTF ProRIP Advanced RIP Software: Features exceptional file preparation, white and color management, production automation functionality, and more.
UNINET DTF Master Class Video Training Series: Discover everything there is to know about DTF printing, maximize the value of your equipment, and be inspired to expand your business even further.
UNINET DTF Five-Color Inks (CMYK + White)
UNINET DTF Powder
UNINET DTF Film Roll – 100 Meters
UNINET DTF Cleaning Solutions, Supplies & Hygrometer
NOTE: This equipment requires a well-ventilated area with a filtration system. Use protective gear when working with DTF products and processes since fumes might be harmful. DTF inks and film/sheets need an adequate humidity environment - above 50% - 65% humidity is strongly advised to reduce the possibility of ink clogs and film buckling.
This item does not qualify for free shipping. A $150.00 shipping charge will be added at checkout. Allow additional time for shipping.
UNINET 1000 DTF PRINTER - 13"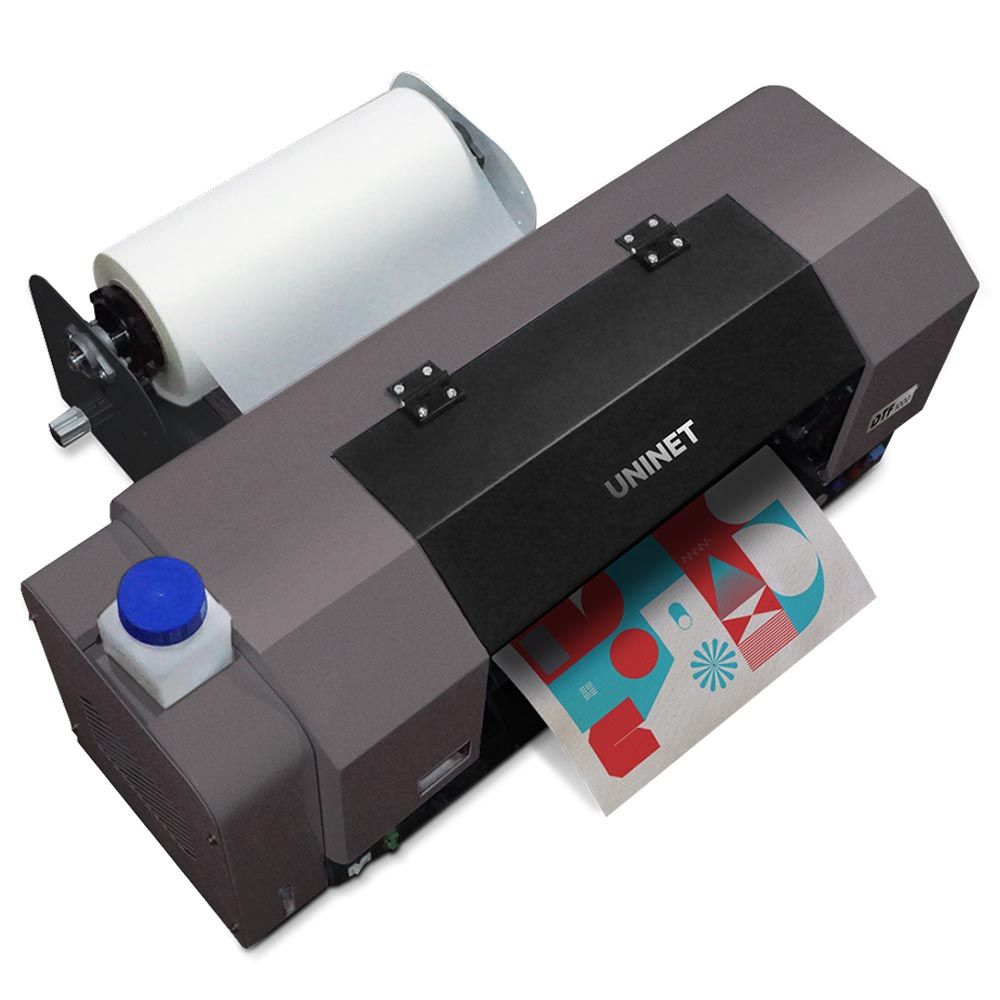 Features
More Information

| | |
| --- | --- |
| SKU | DTFIC-UN1000-13 |
| DTF Equipment Size | 13" |
| Machine Dimensions | 27.5" x 23.6" x 15.7" |
| Voltage | 110 |
Printer Specifications
Print Speed: 6-8 Minutes Per A3 Sheet
Resolution: 5760 x 1440 DPI
Printhead: A High-Definition And Professional Inkjet Printhead
Operating System Supported: Windows 10 & Windows 11
Interfaces: USB Connection
Paper Capacity: 100-Meter Pet Film Roll: 13in / 33cm / 330mm Wide | 39inch / 10000cm 100000mm Long
Rated Current: 5A
Rated Power: 500W
Film Roll Size (Min/Max): 13in / 33cm / 330mm
Weight: 48lbs
Power: AC 110/60hz
Note:
Since this printer is ink-based, it requires continual use. Lack of use for over a day or two can cause the ink to clog, leading to longer maintenance cycles and possible print defects.
Resources