Please Note: This product is only recommend for the Sawgrass Virtuoso sublimation printer with SubliJet or EasySubli ink.
With FOREVER Subli-Light (No-Cut) Glitter, it is finally possible to transfer full-tone colors to white and light-colored cotton garments. No cutting or weeding needed. All you need is your sublimation ink and your heat press to achieve a perfectly glittered design.
In Stock - Available for immediate delivery
FOREVER SUBLI-LIGHT GLITTER 11x17 is available to buy in increments of 10
FOREVER SUBLI-LIGHT GLITTER 11x17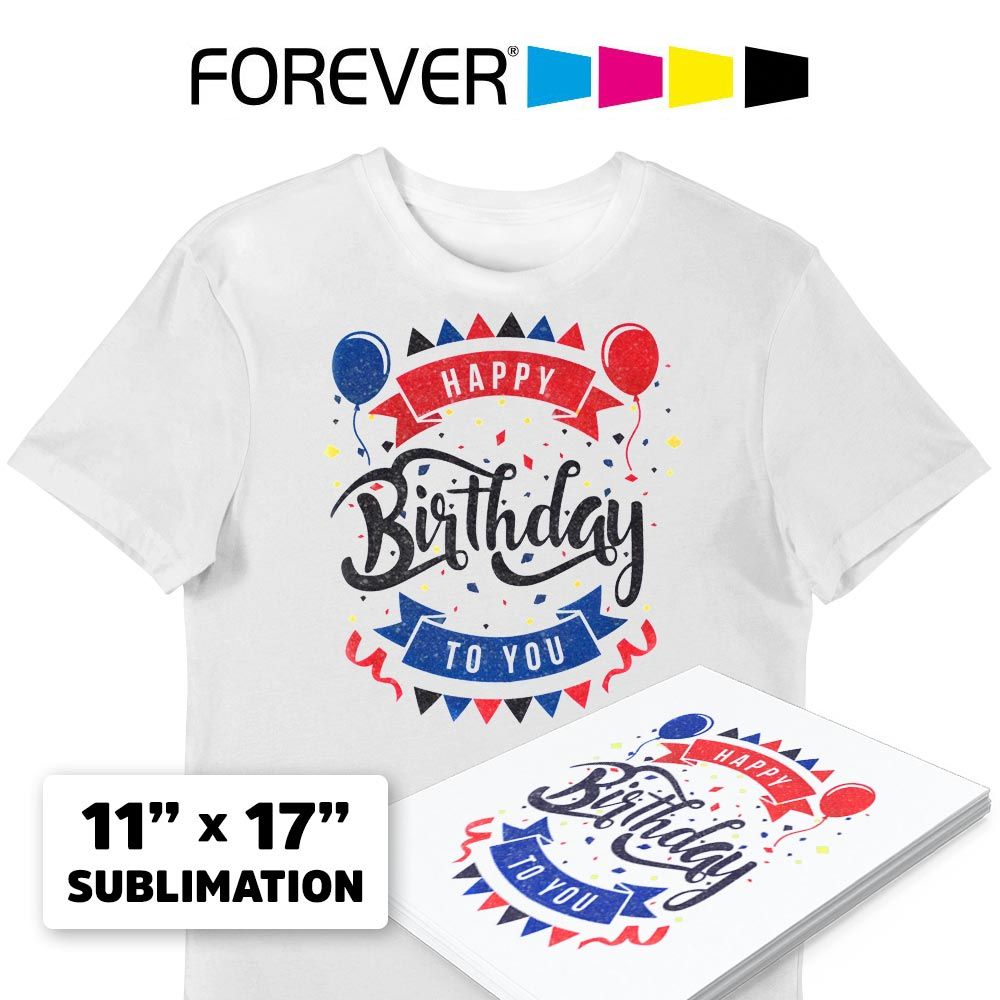 Features
More Information

| | |
| --- | --- |
| Brand | Forever Subli-Light Glitter |
| SKU | SP-520 |
| Printer Type | Sublimation |
| Recommended Printer Brand | Ricoh Sublimation, Virtuoso |
| Application Steps | 1 Step |
| Garment Color | Light |
Features
For white, light cotton garments
1-Paper Solution
Easy & Fast Application
Bold solid color images only - no gradients or pastel colors
No Background
High Washability
Extremely Soft Touch
High Stretchability
Brilliant Colors & True Black
For best results use the Forever print profile.
Resources
Forever Subli-Light (No-Cut) Glitter Transfer Paper Application Instructions
General Use: For light colored cotton garments. Sublimation ink required.
Application Instructions
Pre-heat the bottom pad of your heat press.
Prepress your garment at 338-374F for 15-30 seconds.
Print the image in reverse/mirrored format on Subli-Light Glitter.
Place the Subli-Light Glitter paper face down on your garment.
Press for 20-30 seconds at 338-374F with medium-heavy pressure.
Remove Subli-Light Glitter as a hot peel. Do not remove garment off the press before peeling off the paper.
Cover with a silicone sheet/parchment paper for a matte finish, or a non-stick sheet for a glossy finish. 
Repress for another 30 seconds at 338-374F using heavy pressure.
After removing the silicone sheet/parchment paper from the garment, stretch the shirt while still hot. This will lead to a softer touch.
Tips & Notes
Use the FOREVER profile when using a Virtuoso printer.
For other sublimation printers: Priority Quality, Inkjet Normal paper, ICC color profile -OFF
NOT recommended for photographs or pastel images. Bold solid images only.
Transfer design to your garment immediately after printing. (the longer the time between printing and pressing, the less it will transfer).
Washing Instructions    
Wash cold - inside out.
Do NOT tumble dry. Hang or line dry recommended.
When ironing, cover the print with parchment paper.