Sawgrass SubliJet-R Inks for Ricoh SG 3100DN / SG 7100DN. SubliJet-R Standard Cartridges are designed for moderate and seasonal printing applications, the standard-capacity cartridges provide a low start-up cost.
In Stock - Available for immediate delivery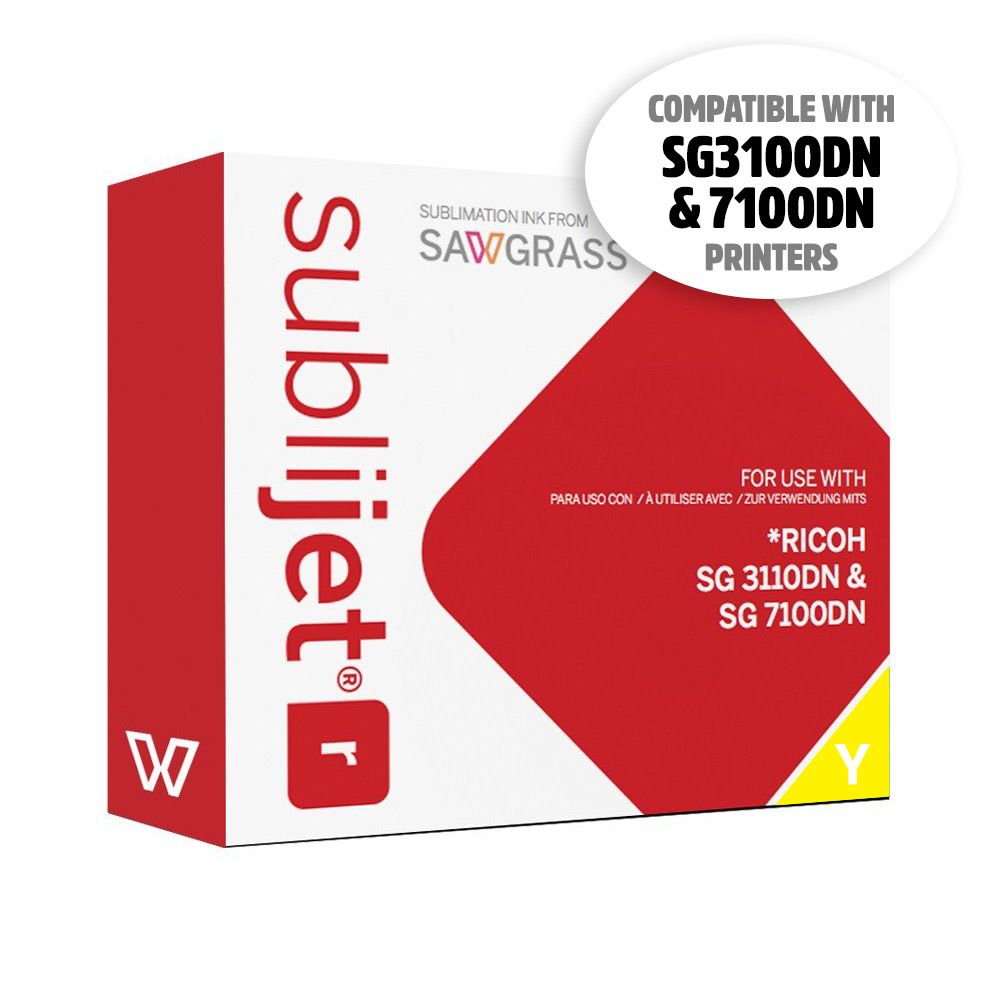 Features
More Information

| | |
| --- | --- |
| Brand | Sawgrass |
| SKU | SI-503 |
| Compatible Printer | Ricoh SG 3110 DN, Ricoh SG 7100 DN |
Features
Only for use in the Ricoh SG 3100DN / SG 7100DN printers
Convenient, Reliable Single-Use Cartridges - Optimize the performance and life of your printer with our closed-cartridge systems that provide clean and convenient ink delivery without the time, mess, hassles and waste of manually pouring bulk ink. Plus, our factory-sealed, single-use cartridges eliminate outside contamination, maintenance costs and downtime associated with bulk ink systems.
Durable Infused Images - Unlike with screenprinting, print-cut vinyl and direct-to-substrate printing, which deliver ink on the surface of the product, sublimation ink is actually infused into surface itself. The tattoo-like image remains smooth to the touch on hard surfaces and completely breathable on fabrics. Images won't crack, peel, scratch or wash away.
Rich Vibrant Colors - Sawgrass inks offer extremely vibrant, realistic colors, with deep blacks, neutral grays that other digital processes simply cannot match. Sawgrass inks are the top choice for professional photographers and digital imagers who demand accurate color reproduction and detail in every image.
High-Yield & Low Imaging Cost - For maximum yield and low imaging costs, SubliJet-HD inks have a high density of sublimation dyes. Our high-yield gel formulation delivers not only the lowest possible image cost, but 26% larger color gamut than SubliJet-R, ensuring the most vibrant colors ever. With imaging costs typically less than 5% of the selling price, digital decorating with Sawgrass inks is more profitable than ever.
Extreme Versatility - Unlike other decorating methods, Sawgrass' sublimation printing technology can decorate a wide variety of polyester fabrics and polymer-coated hard substrates, including: metal, ceramic, glass, FRP plastic, poly-performance fabrics, hardboard and more.