The cloudy appearance of EasyWeed Adhesive turns clear when applied and becomes bright like the sun when you add a screen printing foil on top. Just like the materials in the EasyWeed Family, EasyWeed Adhesive has a carrier side and a material side. EasyWeed Adhesive can not only be used with screen printing foils, it also works with fabrics and other materials that lend themselves to adhesion. EasyWeed Adhesive can be cut on any vinyl cutter and requires the typical steps before cutting Siser heat transfer vinyl. EasyWeed Adhesive is perfect for applying textile foils and more to fabric.
Price Per Yard (per color)
Siser EasyWeed Adhesive By The Yard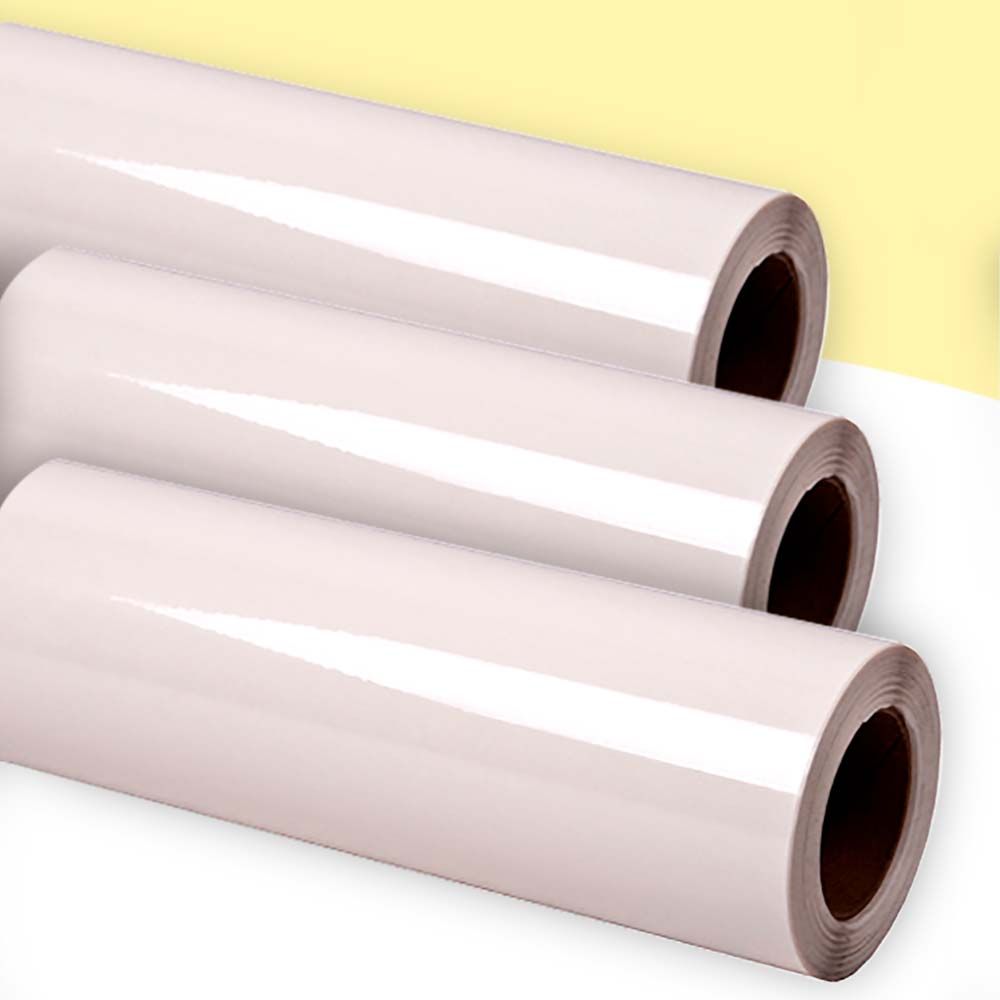 Features
More Information

| | |
| --- | --- |
| Brand | Siser |
| SKU | VN-EW-AD-Y-12 |
| Vinyl Application | Heat Applied |
| Vinyl Type | EasyWeed Adhesive |
| Finish | N/A |
| Transfer Vinyl Max Colors | Layerable |
| CPSIA Certified | Yes |
| Home Iron Compatible | No |
| Transfer Vinyl Ideal Applications | 100% Cotton, Cotton/Poly Blends, 100% Polyester |
| Vinyl Thickness | 2.95 mils |
Features
Width: 11.5" +/- (may vary in size)
Length: By the yard.
Maintenance
Do not dry clean.
Machine wash WARM with mild detergent.
Dry at normal setting.
No chlorine bleach.
Wait 24 hours before first wash.
Resources
Siser EasyWeed Adhesive Application Instructions
Application Instructions
Temperature: 300° F
Cover with Pressing Sheet
Time: Press for 5 Seconds
Pressure: Medium
Peel: Hot
Cover Transferred Adhesive with Foil
Cover Both with a Non Stick Sheet
Time: Press Both for 10 Seconds.
Peel: Cold.
Siser EasyWeed Adhesive for Cricut Cutters
Cutter Settings
Blade: Standard
Setting: Iron-on
Siser EasyWeed Adhesive Cutter Settings
Brother Scan N Cut DX Cutter Settings
Blade: Autoblade
Cut Speed: 5
Half Cut: Auto
Cricut Cutter Settings
Blade: Standard
Setting: Iron-on
Galaxy Cutter Settings
Blade: 45°/60°
Gram Force: 60-65
Speed: 300mm/s
*Blade Advancing Varies
GCC Cutter Settings
Blade: 45˚
Gram Force: 80
Offset: .250
Speed: 30 cm/s
Graphtec Cutter Settings
Blade: 45°
Gram Force: 9-10
Tool: CB09U+0
Speed: 30 cm/s
Juliet/Romeo Cutter Settings
Blade: Juliet 45°
Force: 5-10
Offset: 0.250
Speed: 10
Roland Cutter Settings
Blade: 45°
Gram Force: 80-90
Offset: .250
Speed: 25-50 cm/s
Scan N Cut Cutter Settings
Blade: Standard, 2
Cut Speed: 1
Cut Pressure: 1
Silhouette Cutter Settings
Blade: Standard, 3
Material: Heat Transfer, Smooth
Speed: 8
Force: 6
Titan 1 Cutter Settings
Blade: 45°/60°
Gram Force: 80-85
Speed: 300mm/s
*Blade Advancing Varies
Titan 2 & 3 Cutter Settings
Blade: 45°/60°
Gram Force: 60-65
Speed: 300mm/s
*Blade Advancing Varies