The Color Change PU HTV is UV light sensitive, activating when exposed to UV light. Vinyl is white while indoors and when exposed to sunlight the color will be revealed. Designed to easily cut and weed on vinyl cutting machines, creating a quick and easy way to impress your friends, customers and business associates. This HTV works on a variety of materials, including cotton blend and some textured synthetic fabrics to make beautiful creations.
Now's the time to create bold, interesting designs that showcase creativity and style. Take things up a notch and introduce something new to the world of crafting. The Color Change PU HTV is the solution you've been waiting for!
Price Per Yard (per color)
COLOR CHANGE HEAT TRANSFER VINYL BY THE YARD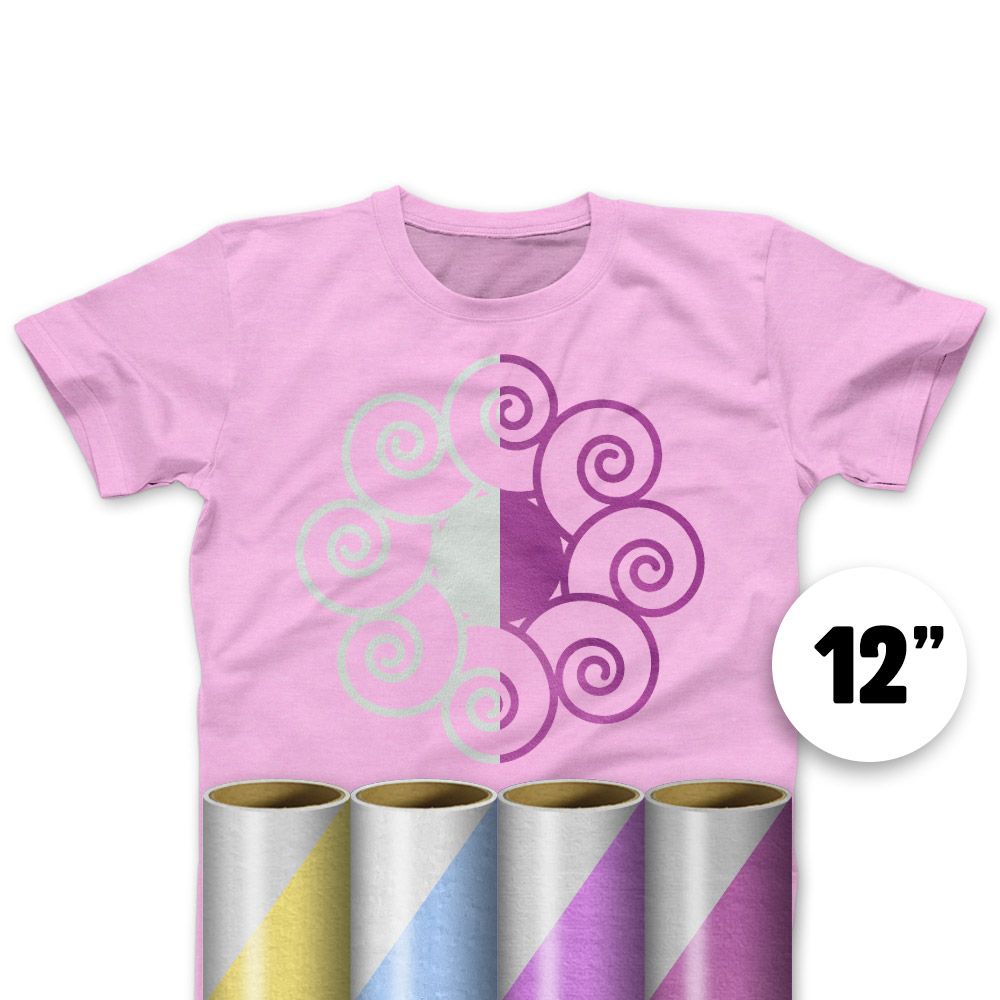 Features
More Information

| | |
| --- | --- |
| SKU | VN-CCPU-Y-12 |
| Vinyl Application | Heat Applied |
| Vinyl Type | Color Change |
| Finish | Semi Gloss |
| Transfer Vinyl Max Colors | Layerable |
| CPSIA Certified | No |
| Home Iron Compatible | No |
| Transfer Vinyl Ideal Applications | 100% Cotton, Cotton/Poly Blends, Lycra / Spandex, 100% Polyester |
| Vinyl Thickness | 4.8 mils |
Features
Adhesive Backing
Thickness: 160 Micron
Maintenance
Do not dry clean.
Machine wash COLD / mild detergent.
Dry at normal setting.
No chlorine bleach.
Turn garment inside out.
Wait 24 hours before first wash.
Color Change Vinyl Application Instructions
Application Instructions
100% cotton, Poly/cotton blends, 100% polyester, Lycra/Spandex
Apply design at 320°F/160°C
Use medium pressure for 15 seconds
Color Change Vinyl Cutter Settings
Brother Cutter Settings
Blade: 2
Cut Speed: 1
Cut Pressure: 1
Cricut Cutter Settings
Blade: Standard
Setting: Iron-on
Galaxy Cutter Settings
Blade: 45°/60°
Gram Force: 60-65
Speed: 300mm/s
* Blade Advancing Varies
GCC Cutter Settings
Blade: 45˚
Gram Force: 80
Offset: .250
Speed: 30 cm/s
Graphtec Cutter Settings
Blade: 45°
Gram Force: 8-9
Tool: CB09U+0
Speed: 30 cm/s
Roland Cutter Settings
Cut: Mirrored
Blade: 45°
Cutting Speed: 25 cm/s
Pressure: 130 gf
Silhouette Cutter Settings
Blade: Standard, 3
Setting: Heat Transfer Material (smooth)
Speed: 8
Thickness: 6