Special Price
$6,599.00
Regular Price
$7,331.71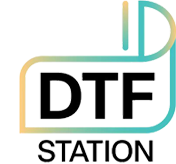 Prestige A4 DTF Printer
Presenting the Prestige A4 DTF Printer! Perfect for garment printing enthusiasts starting out with direct to film printing. It ensures high-quality and reliable results at 9 square feet per hour, and its compact design means you can place this printer just about anywhere. The front control panel displays room temperature and humidity so you can adjust the environment for optimal printing. The printer also includes a front heating plate which removes excess moisture from the printed film and prevents ink bleeding. The temperature of the heating plate is displayed on the control panel.
Phoenix Air 16x20 Curing Oven
The Phoenix Air 16x20 Curing Oven is perfect for curing large film sizes, such as 13" x 19", 14" x 16", 16" x 20", and more! This oven comes with a purifier unit built-in to ensure the safety of your production space. It has a digital control unit that is easy to set and allows precise settings of temperature and time for consistent results. A fusing process is started at the touch of a button. After the set time has elapsed, an acoustic signal sounds alerting you to remove the transfer film.
Seismo 11 Powder Applicator & Dryer
No more manual DTF powdering. Simply load prints, and the Seismo 11 DTF Powder Applicator & Dryer applies and dries the powder for you. Similar to Pretreatment Machines for DTG, this DTF Powder Applicator and Dryer takes the DTF printing process to another level, accelerating your workflow and your printing business
Purifier MINI
The Purifier MINI Portable Air Filter absorbs and filters any gases or dust and can achieve 99.97% purification rate, which prevents environmental pollution. NOTE: Please replace your Purifier MINI filters once a month to ensure optimal equipment performance and longevity.
DTF Station Hot Melt Powder
Formulated to use during DTG Transfer (DTF), this white adhesive powder is crucial for this new technology. Cover your DTG Transfer media with this powder for optimal press. This can be used for 100% cotton, poly, nylon, and more!
Color Max Inks
Engineered for DTF printing. These inks offers an even and consistent texture without any loss in color vibrancy. Features a high color density and wide color gamut.
Cleaning Solution & Supplies
The Prestige DTF Printer Cleaning Solution, alcohol, wipes, and swabs are suitable for running maintenance on DTF printing machines. Cleaning regularly will extend the life of your printer and ensure smooth maintenance.
This item will ship by freight truck from the manufacturer. A $400.00 shipping charge will be added at checkout.
What's Included:
(1) Prestige A4 DTF Printer
(1) Phoenix Air Curing Oven 16X20
(1) Seismo Dtf Powder Applicator And Oven - 11"
(1) Purifier Mini Portable Air Filter
(1) DTF Station Warm Peel DTF Film - A4 (7.8") Roll
(1) Color Max Dtf Pigment Ink - Cyan
(1) Color Max Dtf Pigment Ink - Magenta
(1) Color Max Dtf Pigment Ink - Yellow
(1) Color Max Dtf Pigment Ink - Black
(1) Color Max Dtf Pigment Ink - White
(1) DTF Station Hot Melt Powder - 1kg
(1) Prestige DTF Printer Cleaning Solution - 250ml
(1) DTF Station Isopropyl Alcohol - 16oz
(1) DTF Station Lintless Wipe 4X4 - 30pk
(1) DTF Station 7" Cleaning Swabs - 50pk
(1) DTF Station Digirip
PRESTIGE A4 + SHAKER + OVEN PREMIUM BUNDLE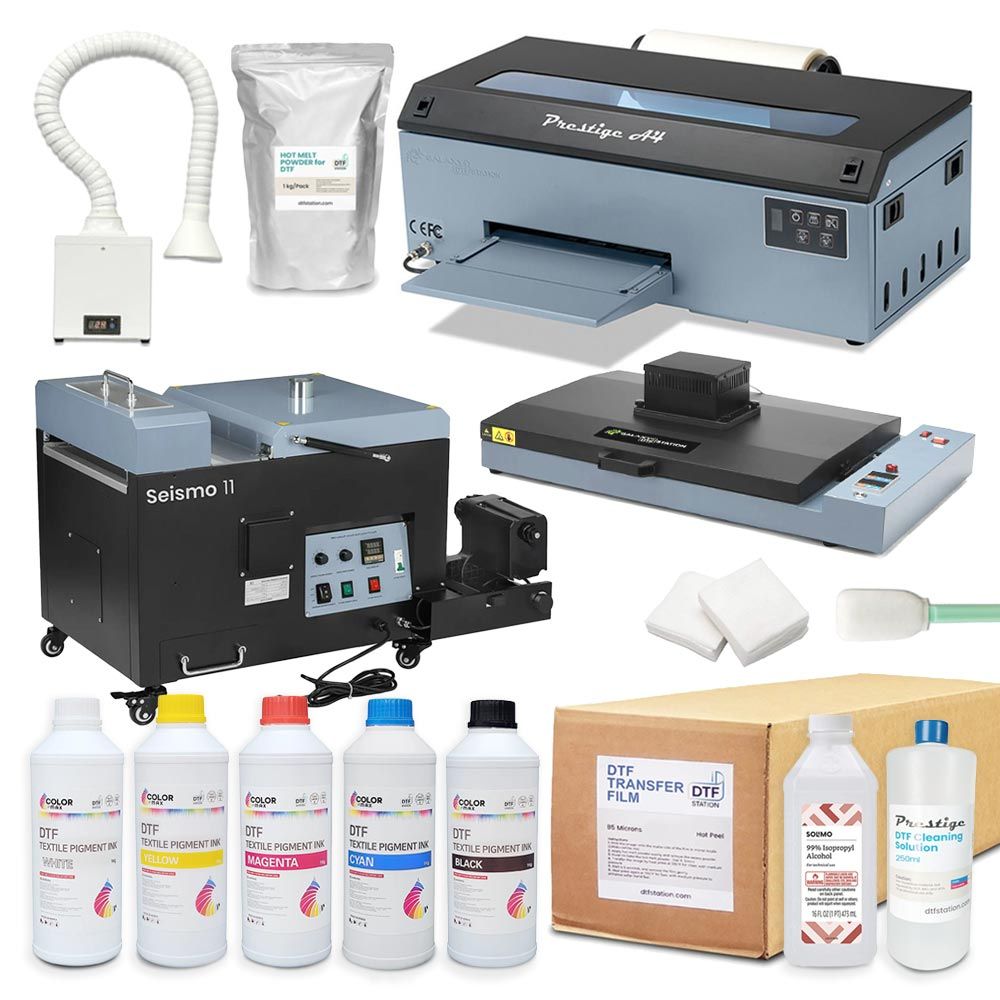 Features
More Information

| | |
| --- | --- |
| SKU | BUN-DTF-079 |
| DTF Equipment Size | 8.5" |
| Color | Classic |
| Voltage | 110 |
Prestige A4 DTF Printer Features
Printer head Epson L805
Mainboard Epson Original (Converted)
Interface USB
Software: CADlink Digital Factory DTF Desktop Version
Printing Width 7.87"
Printing Speed 9 sq ft / hour (1440*720DPI)
Machine Weight 22 lbs
Packaging Weight 33 lbs
Dimensions Printer: 23"x10"x8" Packing: 25 1/2"x18 1/2"x11"
Daily Output (Based on design size as 7.87" x 11.81", 8 hrs per day): approximately 70 pcs
Entry Level Printer
Limited 1-year warranty on non-consumable parts and limited 6 month warranty on the Printhead up to 1 Printhead* (*The use of non-DTF Station ink and film will void any warranties offered for the Prestige A4 DTF Printer)
Phoenix Air 16x20 Curing Oven Features
Cure Transfers within a minute at 230~248°F
Bottom Heating Element
Open top/platform to cure films (not a tray)
Self Contained Purification system. NOTE: Replace Filter 1~3 months depending on usage
Seismo 11 Powder Applicator & Dryer Specifications
Voltage: 110V
Weight: 88 lbs
Max Media Width: 11 to 13 in (roll, no sheets)
Printing material: Pet film, Hot melt powder
Product Dimensions (LxWxH): 40" x 21" x 23.5"
Packaging Dimesions (LxWxH): 23.7" x 29.5" x 21.25"
Purifier MINI Features
Strong Ventilation
Multi-angle adjustable hose
Low noise
Easy to use - plug-in
Greater Dust Capacity - Square vertical filter core has larger dust capacity than single-layer filter core. Longer service time of filter core.
Movable And Adjustable - The smoke absorbing pipe can be disassembled, and the length of the pipe can be adjusted.
47.24 inch Long Hose
9 lbs
DTF Station Hot Melt Powder Features
DTF (Direct To Film) products work with almost all types of fabrics, including 100% cotton, polyester, nylon, and more
Hot-melt adhesive powder has excellent bonding and flexibility properties with DTF inks.
The designed fabrics or printed shirts have good wash characteristics.
The print will have a very slight hand
Color Max Ink Features
SIze: 1kg
Colors Available: CMYKW
Shelf Life (from Manufacture Date): CMYK - 1 year, White - 6 months
Compatible with Prestige A4 DTF Printer
Compatible with Prestige L2 DTF Printer
Compatible with Prestige XL2 DTF Printer
Compatible with Prestige A3+ R DTF Printer
Compatible with Prestige A3+ DTF Printer

Get The DigiRIP Software

Click for the DigiRIP Trial Version (15 Day) - Windows Only

DigiRIP System Requirements:

Operating System: Windows 7, 8, or 10 (32/64 bit)
Processor: 2 GHz or faster
RAM: 4 GB or more
Hard Disk Space: 2 GB or more
Display: 1024 x 768 resolution or higher
Connectivity: USB 2.0

Resources