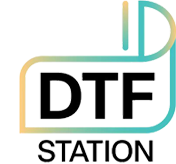 Print with precision and flair with the Prestige R2 DTF Printer! With its chic, integrated design, this printer combines elegant desktop convenience with powerful performance for all those looking to get started with DTF. Enjoy sheet or roll printing with optimized accuracy and stunning results. Experience the best of both worlds with the Prestige R2!
This item will ship by freight truck from the manufacturer. A $500.00 shipping charge will be added at checkout. Allow additional time for shipping.
What Makes The Prestige A4 So Great?
Size: Desktop sized
Speed: 27 sq. ft. / hour, 6pass
Great For Beginners: Perfect balance of power and affordability.
Easy Access/Repair: Intuitive, labeled board design and connections for easy access and repair.
White Ink Management System (WIMS): Timed white ink stirring system to circulate and maintain white ink inside printer.
Passive Auto-Cleaning: When printer is left on, it will automatically maintain and clean printhead every 4 hours.
Active Auto-Cleaning: During set intervals (even during printing), printer can stop to clean printhead.
Head Strike Sensor: Helps prevent damage to printhead.
1 Liter Bulk Ink Cartridges: More ink for all your printing needs.
Auto Ink Alert System: Informs user when ink is running low.
Automatic Film Sensor: If film runs out/is not detected, stops printing.
Fast And Reliable Tech Support: Join DTF Station's live Slack chat channel to get help from other users or from our technical team on any technical questions.
Prestige R2 DTF Printer Training
Training is required for all Prestige R2 purchases. Customers can choose from the following options:
Virtual Training: Included With Purchase
On-Site Training: Additional $2500
Included In The Box
Power Cord
Tools
Ink Dampers
Ink Filters
Ink Tube
Ink Diverter
USB Dongle
Ribbon Cables
Screws
Feed Roller Components
Warranty Policy
PRESTIGE R2 13" DTF PRINTER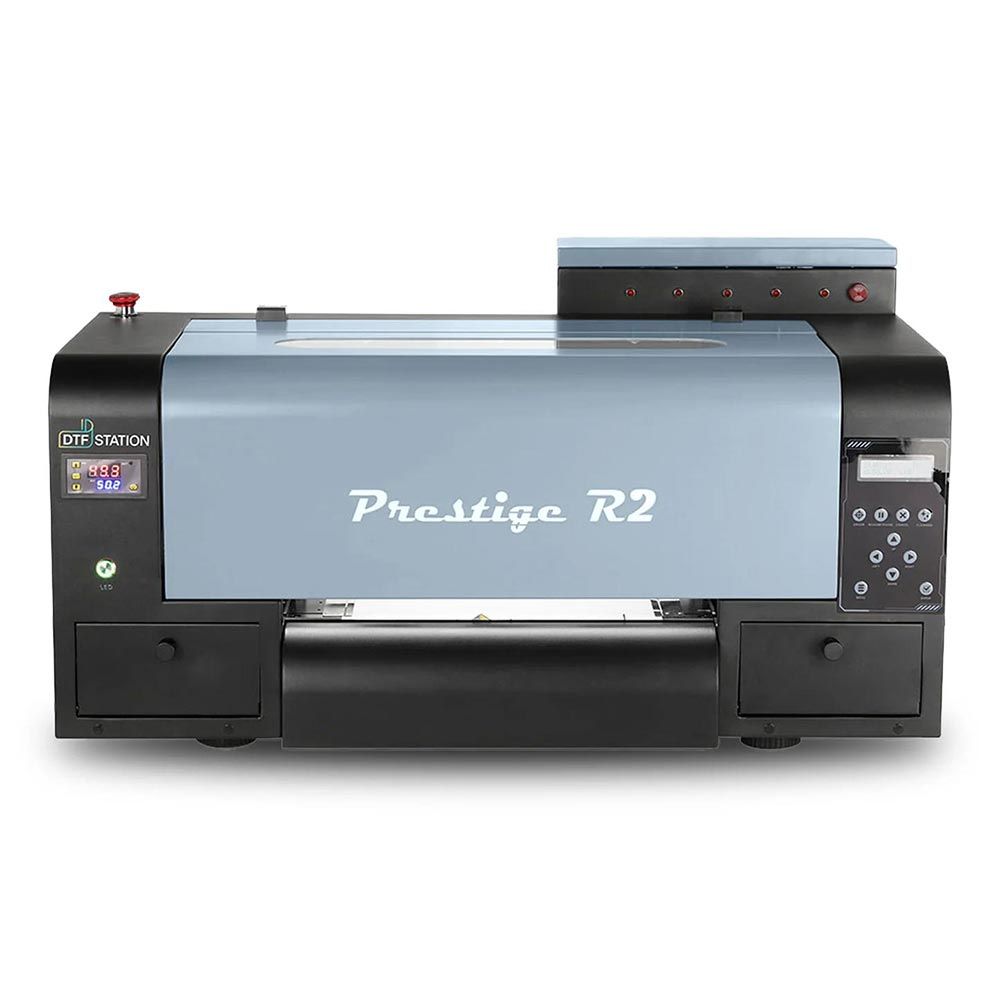 Features
More Information

| | |
| --- | --- |
| SKU | DTFST-PR-R2 |
| DTF Equipment Size | 13" |
| Color | Classic |
| Machine Dimensions | 29" x 14" x 14" |
| Voltage | 120 |
Specifications:
Printer head: Dual Epson XP600 print heads
Mainboard: Honson
Interface: TCP
Software: DigiRIP RIP Software
Max. Film Width: to 13" (33 cm)
Printing Speed: 27 sq ft / hour, 6pass
Machine Weight: 88 lbs
Dimensions: 29" x 14" x 14"
Daily Output (Based on design size as 12" x 14", 8 hrs per day): 160 pcs
Applicable Industries: Garments • Tote • Bags • Caps • And more!
Fabrics & Materials: Cotton • Polyester • PU • And more!
Compatible With
Phoenix Air 16x20 Curing Oven
Phoenix A2 Curing Oven
Seismo M16 DTF Powder Applicator and Dryer
Get The DigiRIP Software
Click for the DigiRIP Trial Version (15 Day) - Windows Only - License to activate software will be sent after purchase.
DigiRIP System Requirements:
Operating System: Windows 7, 8, or 10 (32/64 bit)
Processor: 2 GHz or faster
RAM: 4 GB or more
Hard Disk Space: 2 GB or more
Display: 1024 x 768 resolution or higher
Connectivity: USB 2.0
Resources