3G JET OPAQUE® Heat Transfer Papers produce vibrant and wash-durable ink-jet printed transfers onto dark colored cotton, cotton/poly blends and 100% poly fabrics. The paper is coated with a white polymer and this coating will remain on the fabric unless the image is trimmed or plot cut to eliminate this background. This paper can be used to apply photographs or other designs to your garments.Please Note: Hewlett Packard and Dell printers are not recommended for the 3G Opaque paper.
In Stock - Available for immediate delivery
3G OPAQUE PAPER DARKS 11x17 is available to buy in increments of 10
3G OPAQUE PAPER DARKS 11x17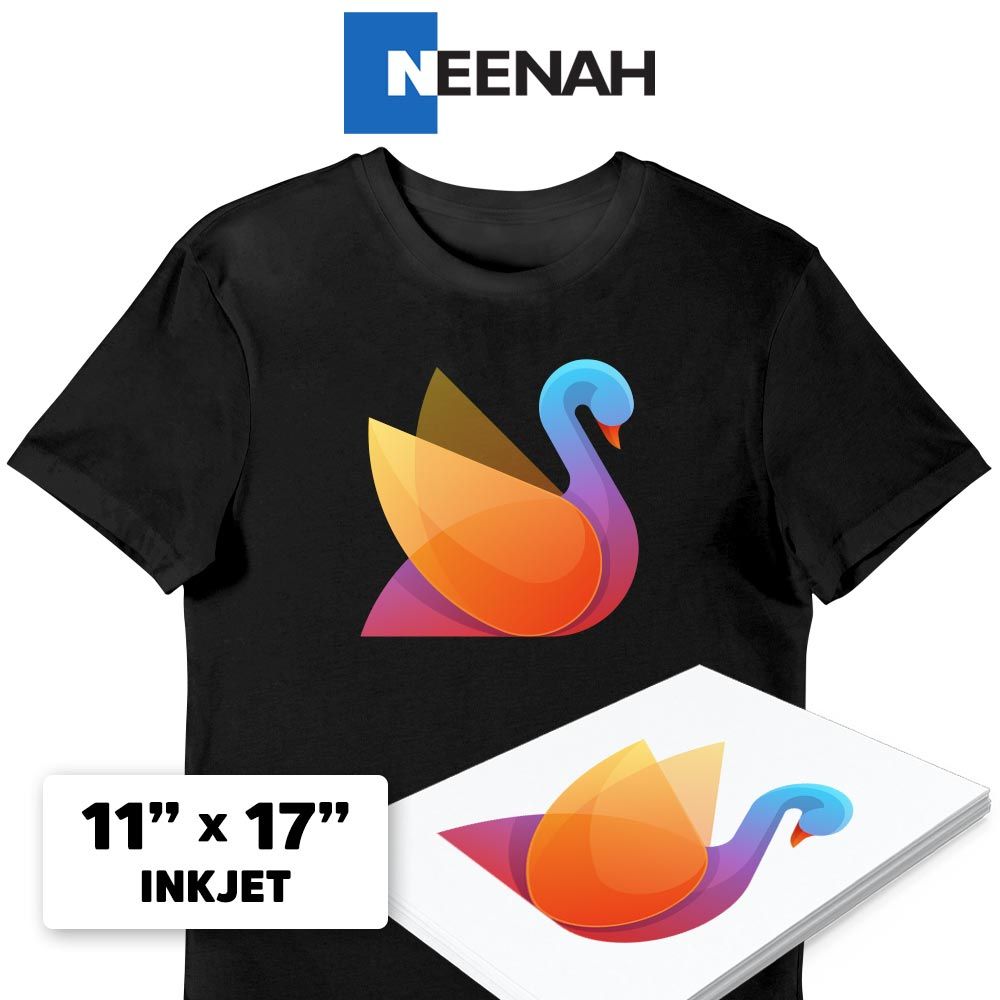 Features
More Information

| | |
| --- | --- |
| Brand | Neenah |
| SKU | 895 |
| Printer Type | InkJet |
| Recommended Printer Brand | Canon, Epson |
| Application Steps | 1 Step |
| Garment Color | Dark |
Disclaimer:
Since there are so many makes and models of printers it is virtually impossible to guarantee the results on any one printer. We can only suggest that you check with the manufacturer regarding the use of transfer papers. We cannot assume any liability for the use of our transfer papers.
Resources:
Inkjet Paper For Darks Application Instructions
General Use
Designed for transferring inkjet images to dark or other colored garments and substrates. This product contains an opaque layer allowing for photograph quality images to be transferred. This product is best used for images that contain white to be transferred onto dark garments. This product may be cut with a cutter/plotter, die and kiss-cut and may be applied to products such as T-shirts, sweatshirts, mouse pads, puzzles, and leather goods.
Printing Instructions
Print image on coated side of paper right reading (do not mirror image).
Trim away the unprinted paper around your image.
Pre-Printing Instructions
Prepare the substrate by ensuring the surface is clean, dry and wrinkle free.
Application Instructions
Remove the backing paper from the printed image.
Place the Heat Transfer Paper on top of the garment with the image facing up (right reading to you).
Completely cover the image with the ironing sheet.
Place a piece of spare material over the ironing sheet.
Press for 30 seconds at 350°F using medium pressure.
Once cold peel away ironing sheet in a smooth even motion.
TIP:
If you find it difficult to peel the backing sheet off the printed image, try the following:

Place a piece of masking tape on the front corner of the paper.
Another piece on the same corner but on the back of the paper.
Pull both pieces of masking tape apart to release the printed some from the backing sheet.
Once a small area of paper is released from the backing sheet, remove the masking tape carefully.
Recommended Printers for this paper for darks
Any brand name inkjet printer (i.e. Epson, Canon, Lexmark) work very well with this type of paper. We do NOT recommend a Dell or Hewlett Packard inkjet printer as we have experienced problems with their models.