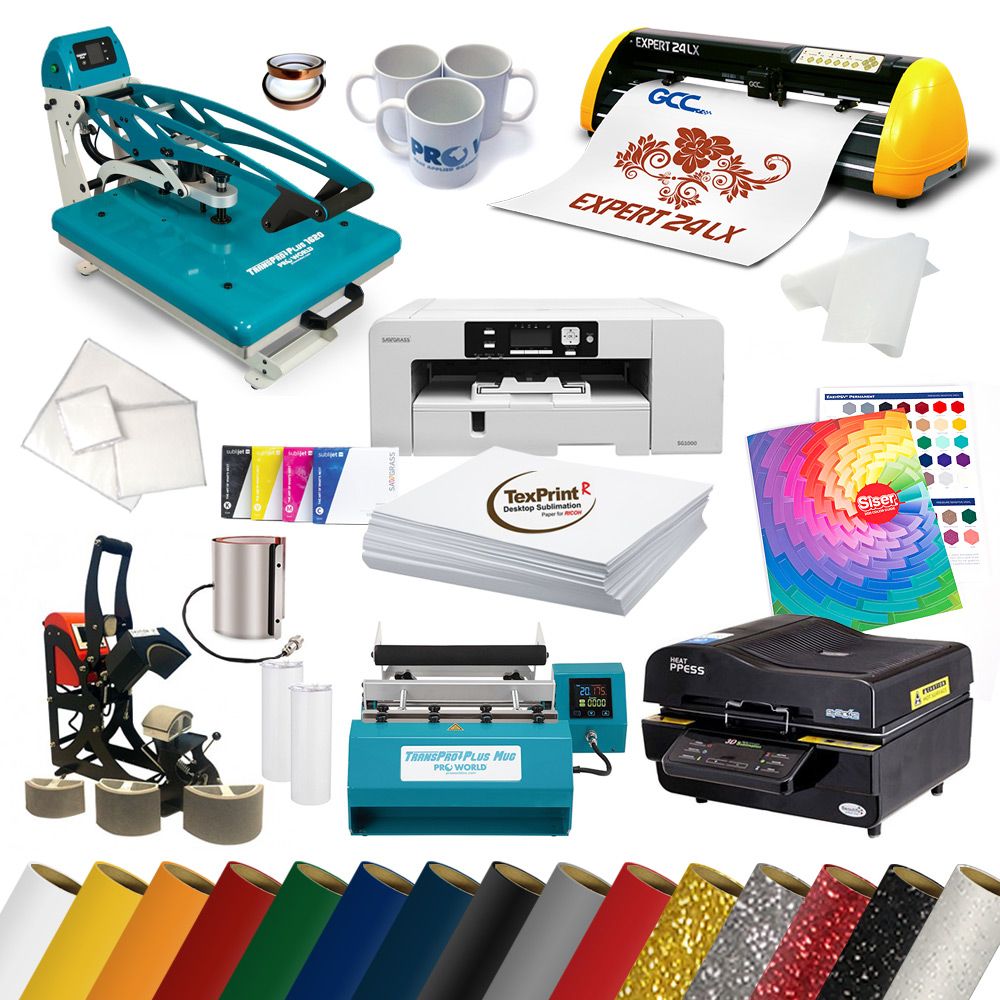 Starting at only $5,749!
(List Price: $6,083)
Get started with our popular bundle package and save over $334. (compared to purchasing items separately).

The 'I WANT IT ALL' package! If you are looking to expand your business and get everything you need all at one time - this is the package for you. Starting at $5,749, this package includes a TransPro Plus 16x20 Semi Auto Heat press, TransPro Quad Cap Press, TransPro Plus Mug Press, Vinyl Cutter, Sublimation Printer, and a variety of products and accessories.
TransPro Plus Semi Auto 16x20 Heat Press
The next generation of our TransPro Heat Presses has arrived! The TransPro Plus includes the best features of our TransPro Select line and so much more. This press offers interchangeable platens (sold separately), slide-out lower platen for easy access, and the exclusive semi-auto release feature which can be changed to manual operation if needed. The press also features a pressure display ranging from 0-9 that can be set by the large pressure knob on the top of the platen. Available platens include 4x4, 6x10, 6x20, 8x10, and 11x15.
3D Vacuum Press
The 3D sublimation vacuum press is an all-in-one machine, which can be used to customize many types of substrates like sublimation blanks, mugs, latte mugs, etc. The combination of vacuum pressure and heat to wrap sublimation transfer paper around curved shapes to permanently fuse the decoration onto any curved surface.
TransPro Plus Mug Press
Our next generation of TransPro Mug Presses has arrived! The extra long heating element gives you the ability to easily print any size skinny tumbler - including a 20oz or 30 oz skinny tumbler! The digital control panel with colorful display is simple and the stable structure makes this machine light weight and easy to operate. This press also includes a standard mug heating element to print 11 oz or 15 oz mugs and 2, 20oz skinny tumblers to get you started. We also offer other interchangeable heating elements (sold separately) to expand the type of drinkware you can sublimate on. We offer a wide latte style for printing 15 oz tapered drinkware, and a larger standard style for printing on a 30oz tumbler.
TransPro Select Quad Cap Auto Heat Press
The TransPro Select Auto is a durable cap press with digital time & temperature control. Four platens in various sizes are included to provide ease of application to most cap styles.
Virtuoso SG1000 Sublimation Printer
Imagine brighter, higher-definition images, with unsurpassed ease-of-use, support AND lower startup and imaging costs. Virtuoso delivers all this and more, taking the art of digital printing to its next evolution. We recommend using Texprint-R paper for the best results (included in this package).
GCC Expert II LX Vinyl Cutter
With the Expert II LX, you get 350 grams of cutting force and up to 15.7 IPS cutting speed for precise cutting quality, superior tracking capability plus an advanced AAS function for auto contour cutting to meet the demands of the craft market.
Sublimation Blanks & Materials
You get a set of 4 color (CYMK) SubliJet-UHD Ink standard-capacity full cartridges, 110 sheets of our 8.5" x 11" and 110 sheets of "4 x 9" TexPrint-R sublimation paper, and a case of 36 - 11oz mugs.
Siser Easyweed & Glitter Vinyl
You get a wide assortment of Siser's most popular heat transfer vinyl including Siser Easyweed and Siser Glitter to get you started on your next custom vinyl project.
And Loads Of Accessories
And to top it all of you will get a treasure trove of accessories to round out your platinum package which will include a Graphic Alignment System, a set of pressing pillows, a non-stick sheet, a platen cover for your heat press and thermal tape for your custom sublimation designs. This really is our most "chalked full" starter package
Features
More Information

| | |
| --- | --- |
| SKU | BUN-014 |
| Press Size | 16" x 20" |
TransPro Plus Semi-Auto16 X 20 Heat Press Features:
Platen Size: 16x20"
Pressure Display: Yes
Temperature Range: Max.430°F
Easy Assembly of the Control Box to the frame is required
Preheat: approximately 20 minutes to reach 356°F
"RAMLOCK" Quick Change System for interchangeable platens
Auto-sleep Mode
Over The Center Pressure Distribution
Threadable Lower Platen
Bottom Pad Cover and Non-Stick Sheet included
Slider-out Lower Platen
Interchangeable Control Box
Emergency Stop Button
Power(120volt): 1800W/16.4Amps
Auto-open/Manual: Optional. "Ramspin" system
Time Range: 0~999S
Interchangeable platens (sold separately): 4"x4"; 11"x15"; 8"x10"; 6"x20"; 6"x10"
Machine Size (open): 30x17x40"
Packing Size: 33x21x34"cm
Packing Weight: 120 lbs
1800W/ 8.2 AMPS
Certificate: CE,FCC
Programmed Presets
Holding down the circle for 3 seconds will allow you to go to the presets until you reach the one you want.
Siser Easyweed: 305 F for 12 seconds
Supacolor and Siser Glitter: 320 F for 15 seconds
Hot Peel Transfer: 395 F for 10 seconds
Sublimation on Polyester: 400 F for 45 seconds
Sublimation on Aluminum: 400 F for 60 seconds
3D Vacuum Heat Press Features:
Can print on mug, glass, crystal, acrylic, plastic, wood, metal, stone, fabric, etc.
Print on mugs of different shapes and sizes with corresponding wraps.
Package includes: 2- 11oz mug wraps, and a 15oz mug wrap, replacement silicone sheet and tubing, a pair of gloves, and a wire rack.
Well-designed user interface.
Easy operation. Digital time, temperature and vacuum option.
Needs no operations other than placing the work pieces in and taking them out.
Large volume: 300 x 420 x 110 (mm).
Can print 8 mugs at one time.
Box dimensions: 27" x 22" x 16".
110V
2900W
13/26A
50/60HZ
Die casting aluminium alloy and far-infrared coating.
Even heating.
Clear print effect; accurate color rendition.
Made of flame-resistant heat insulating materials.
Safe, light, and streamline heat insulating strip.
Compact practical internal structure.
108° flip design, easy operation, space saving.
Built-in high performance anticarbon air filter.
Effectively filter the exhaust gas.
Long exhaust pipe.
Color of printer or style may vary.
One year limited warranty.
GCC Vinyl Cutter Expert II LX
Automatic-Aligning System for automatic contour cutting (AAS II)
USB RS-232 connectivity
Up to 350 grams of cutting force
Dual-port USB & Serial connectivity
GreatCuts 2 software included
User-friendly interface
Handy grooved cut-off tool
Operation Method: Roller Type
Max. Cutting Width: 600 mm (23.6 in)
Max. Cutting Length: 50 m (164 ft)
Max. Media Loading Width: 719 mm (28.3 in)
Min. Media Loading Width: 50 mm (1.97 in)
Num. Of Pinch Rollers: 3
Offset: 0 ~ 1 mm (with increase of .025 mm)
The specification and data sheet may vary with different materials used. In order to obtain the best output quality, please maintain the machine regularly and properly.
GCC reserves the right to change the specifications at any time without notice.
GCC certified material in tracking is Avery MPI 3000.
The above listed specification values are effective only when operated with media certified by GCC.
TransPro Plus Mug Press
30oz Skinny Tumbler size 11.8" heating element included
11oz/15oz Standard mug heating element included
Please note: If printing a design that wraps completely around a skinny tumbler, you will need to rotate the tumbler a quarter turn when printing to ensure the design is printed fully.
Power (120volt): 300W/2.8Amps
Temperature Range: Max.430℉
Time Range: 0~999S
Additional Interchangeable Platens Sold Separately
Machine Size: 14.5"x 12.5"x 9"
Packing Size: 17"x 15" x 12"
Certificate: CE, FCC
TransPro Auto Open Cap Heat Press Features:
Emergency Open Button
Includes 4 interchangeable platens - 2.75"x7", 3"x6.5", 3.9"x7", 4" x 9.25"
Gas Piston Release Control
Cap Hold Down
Electro-Magnetic Pressure System
Auto-open after the timer cycles out
Heating Element 4"x8"
Controller: Digital Time & Temperature Control
Voltage: 110V
Power: 500-1000W
Time Range: 0-480 sec
Maximum Temp: 450F
Temperature Accuracy: ±0.5%
Weight: 53 lbs
Virtuoso Sublimation Printer
Maximum Media Size: SG400 - 8.5" x 14", SG800 - 13" x 19" (bypass tray required for this size and sold separately $208.00) Without the bypass tray the printer can print 11x17.
Print Speed (Prints/Hour)

High Speed: 156 @ 600 x 600 dpi
High Quality: 72 @ 600 x 600 dpi
Adv. Photo: 22 @ 1200 x 1200 dpi

Ink Set: CMYK
Color Management: Windows OS: PowerDriver; Mac OS: MacProfile
Maximum Resolution: 600 x 600 dpi
Media Tray: 250 Sheets
Ink Delivery System: High-Capacity Cartridges
Options: 100 Sheet Multi-Bypass Tray; (2) 250 Sheet Paper Feed Units
Estimated Image Cost: $0.60
Image cost and print speed estimates are provided for platform comparison purposes only. Results will vary depending on many variables including image size, coverage, color management settings, etc. Sample image is approximately 8" x 10" / 20 x 25 cm with 50% coverage.
System Requirements:
Minimum RAM: 2 GB
Recommended RAM: 4 GB
Recommended CPU: Dual Core 2 GHz
Min. Free HD Space​: 10% Free
Wi-Fi Requirements
Resources:
Siser EasyWeed Application Instructions
Application Instructions
100% cotton, Poly/cotton blends, 100% polyester, Leather.
Cut in reverse
Weed excess material
Preheat garment for 2-3 seconds
Apply design at 305°F/150°C
Use medium pressure for 10-15 seconds
Peel carrier hot or cold
Wait 24 hours before first wash.
Siser Glitter Application Instructions
Application Instructions
100% cotton, Poly/cotton blends, 100% polyester, Leather.
Cut in reverse
Weed excess material
Preheat garment for 2-3 seconds
Apply design at 320°F/160°C
Use medium pressure for 10-15 seconds
Cover with a non stick sheet.
Peel carrier warm
Wait 24 hours before first wash.