30% Off! Discount applied in cart.
Please Note: This product is not intended for use with garments.

This outdoor-rated EasyPSV comes equipped with a permanent adhesive that's strong enough to survive weather & UV conditions. Put the family name on the mailbox and you're sure to smile every time you pull into the driveway. When you back out, you'll get a glimpse of the kids' team decals on the windshield and feel so proud of them. The kids also love seeing their team colors displayed bright and bold (and sometimes glittering!) on the car. Of course, EasyPSV Permanent works on indoor surfaces as well, but we just don't recommend it for drywall (unless you're looking for free paint removal!) The wide range of EasyPSV Permanent gloss colors includes over 15 glitter options that will surely get your creative juices flowing no matter what you plan to create!
Price Per Yard (per color)
Siser EasyPSV Permanent Vinyl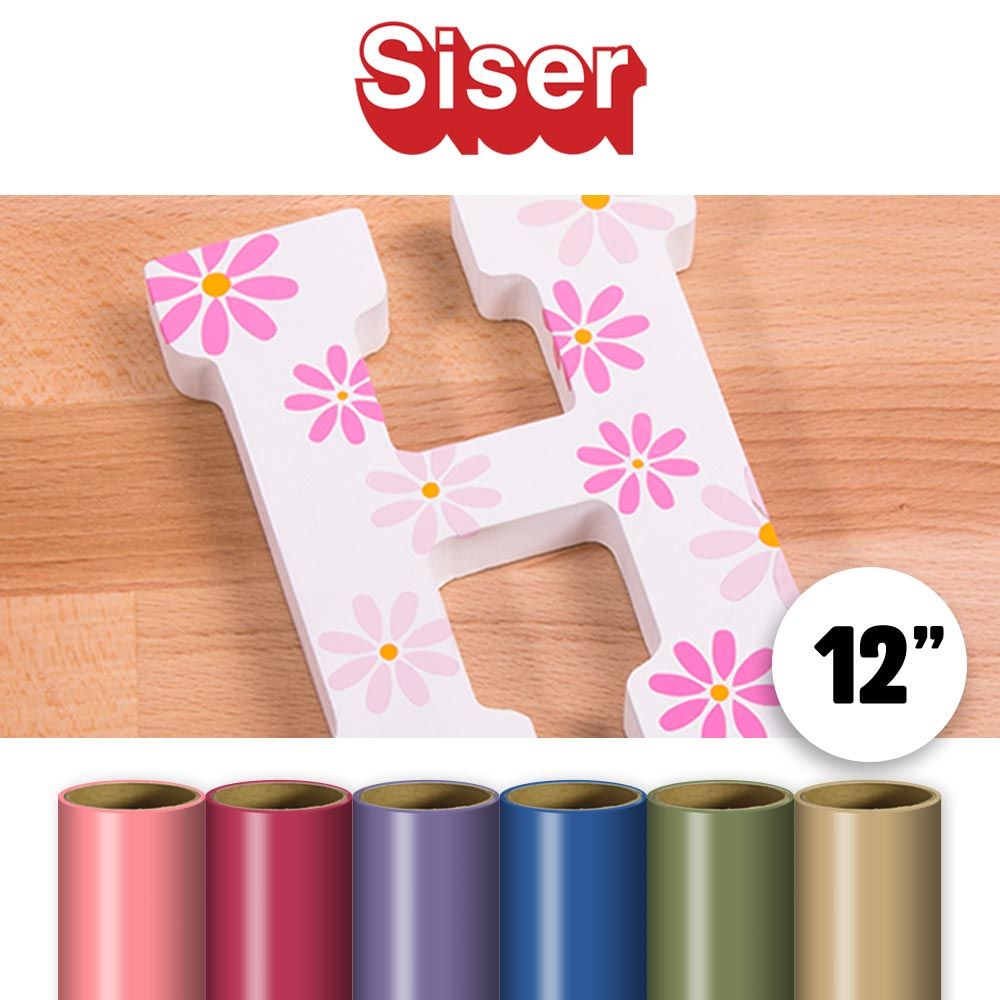 Features
More Information

| | |
| --- | --- |
| Brand | Siser |
| SKU | VN-PV-Y-12 |
| Vinyl Type | Permanent |
| Vinyl Application | Pressure Applied |
| Finish | Glossy |
| Transfer Vinyl Ideal Applications | Wood, Windows, Glass, Metal, Ceramic, Plastic, Mirror |
| Vinyl Thickness | 3 mils |
| Transfer Vinyl Max Colors | Layering not recommended |
Features
Indoor and Outdoor
Width: 12" (may vary in size)
Length: By the yard.
3-5 year outdoor durability
Resources
Siser PSV Permanent Vinyl
Application Instructions
Place EasyPSV with liner side down and cut your design (DO NOT reverse/mirror your design.)
Weed excess vinyl
Remove the application tape's paper liner
Place tape on top of EasyPSV and burnish with a squeegee
Lift the application tape and Easy PSV away from the paper liner to expose the permanent adhesive
Place the application tape on your desired object and burnish with a squeegee to fully adhere the design
Gently peel away the application tape, leaving just your EasyPSV design on the object
Siser EasyPSV Vinyl Cutter Settings
Cricut Cutters Settings
Blade: Standard
Setting: Vinyl
Galaxy Cutters Settings
Blade: 45°/60°
Gram Force: 55-60
Speed: 180mm/s
*Blade Advancing Varies
Roland Cutters Settings
Blade: 45°
Gram Force: 80-110
Offset: 25
Speed: 50 cm/s
Silhouette Cutters Settings
Blade: Standard, 3
Material: Vinyl, Glossy
Speed: 7
Force: 8/s