VIRTUOSO SG500 CHROMABLAST PACKAGE FOR COTTON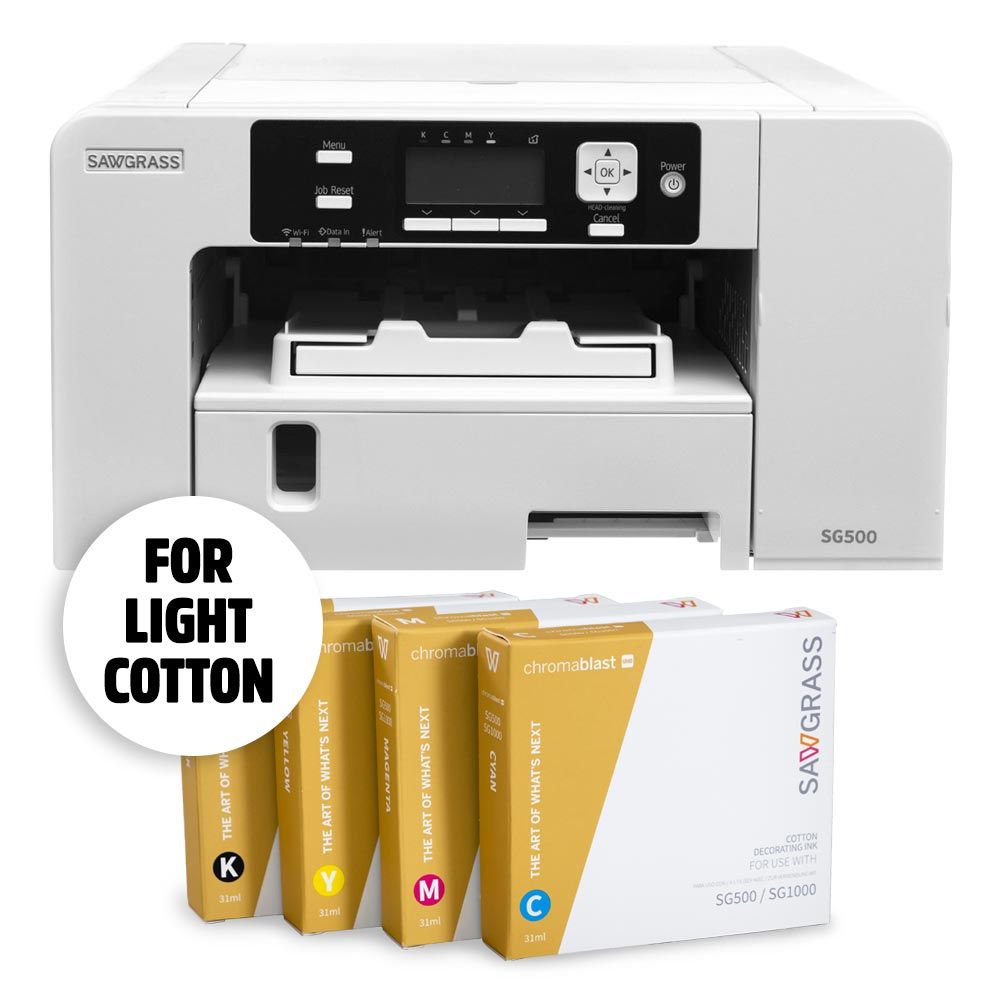 Printing On Light Cotton
Chromablast-UHD is perfect for white and light colored cotton and cotton blend fabrics including t-shirts, tote bags, jackets, and more.
High Performance Printer
The SG500 has the compact footprint and rugged reliability of its predecessor, the SG400, but has been updated from the inside out. In addition to design improvements such as a single roll-bar, the SG500 is more energy-efficient, prints with higher resolution, and offers WiFi connectivity. This means you'll enjoy higher quality products and greater ease of use, at a price comparable to the previous model.
ChromaBlast Media
As a bonus you'll receive 200 sheets of ChromaBlast heat transfer paper, which is the professional's choice for digitally printing white and light colored t-shirts, tote bags and other cotton fabrics. We recommend trimming around the printed image to reduce the film of the paper from transferring to your garment.
Chromablast Inks
Chromablast-UHD is a professional digital heat transfer ink for white and light colored cotton and cotton-blend fabrics. Bright, beautiful digital heat transfer inks designed to work with Virtuoso Printer. Standard Full Cartridges - CMYK (31ml)
FREE CreativeStudio ($3,000 value)
CreativeStudio is the easy-to-use Online Designer and Stock Design Library that lets you create designs from your computer or tablet on any OS. With hundreds of templates, thousands of images to choose from you can download virtual samples for e-commerce or customer approval. There is a full catalog of sublimation blanks at your fingertips and there is no desktop graphics software or clip art to buy – Savings up to $3,000.
IMPORTANT: All ChromaBlast Products
For use on white & light colored cotton/cotton-blended fabrics only.
It's recommended to use a separate sublimation printer for ChromaBlast. Once a Virtuoso printer is designated for one ink type, it can not be switched to an alternate ink.
Chromablast Media sublimation paper to be used with Chromablast Inks only.
Features
More Information

| | |
| --- | --- |
| SKU | BUN-048 |
SG500 Features
System Requirements to run Sawgrass Print Manager
Sawgrass Creative Studio Software
Wi-Fi Requirements
Resources