Please Note: This product is not intended for use with garments.

Siser® EasyPSV® Starling™ by Avery Dennison® is your new favorite adhesive vinyl! Expertly developed for high quality and low frustration, EasyPSV Starling provides superior weeding and ease of use so you can cut tiny text or giant graphics- whatever the job calls for! Plus it comes with the major bonus of being dishwasher safe up to 80 washes on the top rack only! Not only is Starling durable indoors but it can also withstand outdoor elements such as exposure to sun, rain, and even saltwater. Ideal for vehicle and boat graphics, porch signs, and outdoor tools or equipment, you can customize objects with your name or even your business' name using EasyPSV Starling by Avery Dennison for a decoration that lasts up to 3-6 years. Starling's wide range of colors feature a matte finish with a select few also offered in glossy so you can complete all kinds of projects with the finest adhesive vinyl available.
NOTE: EasyPSV Starling is a PVC-based material and is NOT CPSIA Certified.
Price Per Yard (per color)
SISER EASYPSV STARLING MATTE BY AVERY DENNISON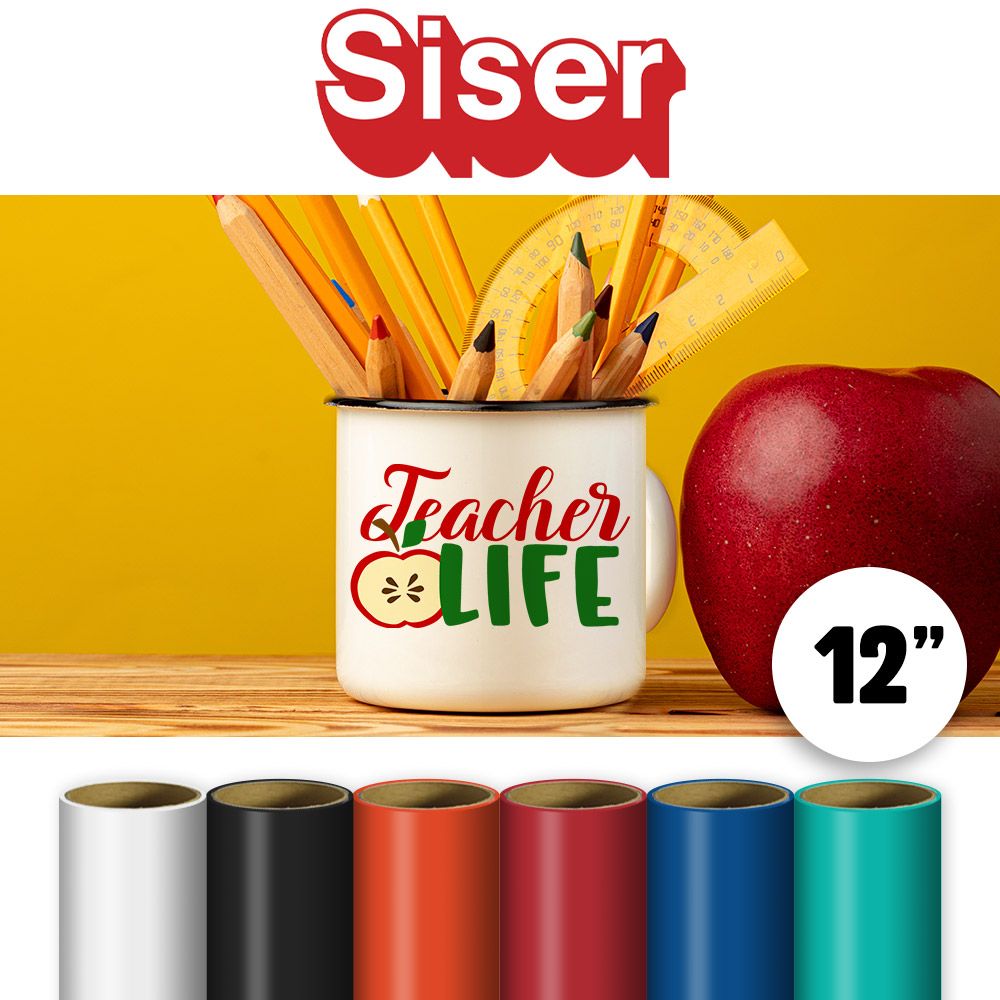 Features
More Information

| | |
| --- | --- |
| Brand | Siser |
| SKU | VN-ESTM-Y-12 |
| Vinyl Type | EasyPSV Starling |
| Vinyl Application | Pressure Applied |
| Finish | Matte |
| Transfer Vinyl Ideal Applications | Wood, Windows, Glass, Metal, Ceramic, Mirror, Smooth Surfaces |
| Vinyl Thickness | 3 mils |
| Transfer Vinyl Max Colors | Layerable |
Features
Composition: Calendered PVC
Thickness: 76 Microns/3.0 Mils
Finish: Matte
Adhesive: Permanent
Applies to: Wood, Glass, Plastic, Ceramic, Metal, Drinkware
Grid Backing: Gray
Rated Durability: 3–6 Years
Dishwasher Safe: Yes
Dishwasher Cycles: Up to 80
Microwave Safe: No
Outdoor Performance: UV, temperature, humidity, and salt water resistant
Resources
Siser PSV Starling Application Instructions
Application Instructions
Place EasyPSV® Starling™ with the liner side down and cut your design. (DO NOT reverse/mirror your design.)
Weed excess vinyl.
Remove the application tape's paper liner and place tape on top of EasyPSV.
Burnish with a squeegee.
Lift the application tape and EasyPSV away from the paper liner.
Place the application tape on your desired object.
Burnish with a squeegee to fully adhere the design.
Gently peel away the application tape, leaving just your EasyPSV design on the object.
* Please allow 72 hours dwell time after application prior to placing in dishwasher
Siser PSV Starling Vinyl Cutter Settings
Brother® Scan N Cut DX Cutter Settings
Blade: Standard, 3
Cut Speed: 7
Cut Pressure:2
Cricut® Explore Air Cutter Settings
Blade: AutoBlade, Standard
Setting: Vinyl
Cricut® Maker Cutter Settings
Blade: AutoBlade, Fine-Point
Setting: Heat Transfer, (Non-Cricut)
Graphtec® Cutter Settings
Blade: 45°
Gram Force: 9
Tool: CBO9U+0
Speed: 30 cm/s
Mimaki® CC-60SR IlI Cutter Settings
Blade: 45°
Gram Force: 50
Offset: 30
Speed: 20-30 cm/s
Roland® GX/GS-24 Cutter Settings
Blade: 45°
Gram Force: 80-90
Offset: 250
Speed: 30-50 cm/s
Silhouette Cameo® 4 Cutter Settings
Blade: AutoBlade, 2
Material: Vinyl, Glossy
Force: 7
Speed: 8
US Cutter® Titan 2 & 3 Cutter Settings
Blade: 45/60°
Gram Force: 50-55
Speed: 300 mm/s * Blade Advancing Varies