EasyPSV® Brushed is the best way to add a sleek sheen to everyday objects! Mimicking a brushed metal surface, this vinyl has a shiny finish that's perfect for a wide variety of designs. EasyPSV Brushed is just glossy enough to make artwork stand out without being overly flashy. Like most EasyPSV products, Brushed can be applied onto a variety of surfaces like wood, plastic, glass, metal, and more for both indoor and outdoor applications. EasyPSV Brushed can be layered with other EasyPSV products.
Price Per Yard (per color)
Siser EasyPSV Brushed Vinyl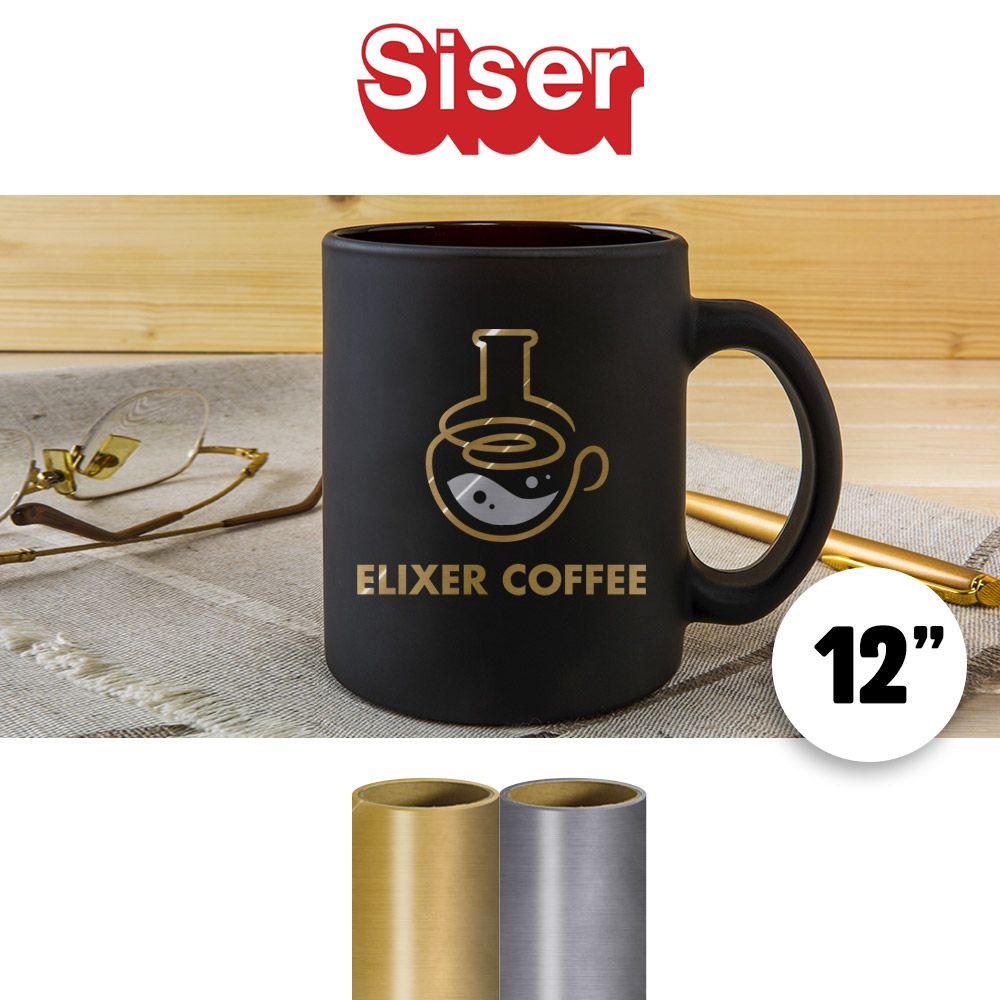 Features
More Information

| | |
| --- | --- |
| Brand | Siser |
| SKU | VN-PVB-Y-12 |
| Vinyl Type | EasyPSV Brushed |
| Vinyl Application | Pressure Applied |
| Finish | Metallic |
| Transfer Vinyl Ideal Applications | Wood, Windows, Glass, Metal, Ceramic, Plastic, Mirror |
| Vinyl Thickness | 6.9 mils |
| Transfer Vinyl Max Colors | Layerable |
Features
Composition: Polyester
Thickness: 6.9 Mils
Finish: Brushed Metal Sheen
Adhesive: Permanent (Acrylic)
Applies to: Glass, Wood, Plastic, Metal, Ceramic
Grid Backing: Gray
Rated Outdoor Durability: Up to 2 Years
Dishwasher Safe: No
Microwave Safe: No
Resources
Siser PSV Pattern Vinyl
Application Instructions
Place EasyPSV® with the liner side down and cut your design. (DO NOT reverse/mirror your design.)
Weed excess vinyl.
Remove the application tape's paper liner and place tape on top of EasyPSV.
Burnish with a squeegee.
Lift the application tape and EasyPSV away from the paper liner.
Place the application tape on your desired object.
Burnish with a squeegee to fully adhere the design.
Gently peel away the application tape, leaving just your EasyPSV design on the object.
Siser EasyPSV Vinyl Cutter Settings
Cricut Cutters Settings
Blade: Standard
Setting: Vinyl
Galaxy Cutters Settings
Blade: 45°/60°
Gram Force: 55-60
Speed: 180mm/s
*Blade Advancing Varies
Roland Cutters Settings
Blade: 45°
Gram Force: 80-110
Offset: 25
Speed: 50 cm/s
Silhouette Cutters Settings
Blade: Standard, 3
Material: Vinyl, Glossy
Speed: 7
Force: 8/s