EasyPSV®Patterns are edge-to-edge designs pre-printed on EasyPSV® Printable Material. These Patterns take the designs from our EasyPatterns® line and bring them to our pressure sensitive vinyl. Just like our EasyPatterns® HTV, EasyPSV® Patterns do not need to be fed through a printer and are ready to be cut on a vinyl cutter.
Price Per Yard (per color)
Siser EasyPSV Patterns Permanent Vinyl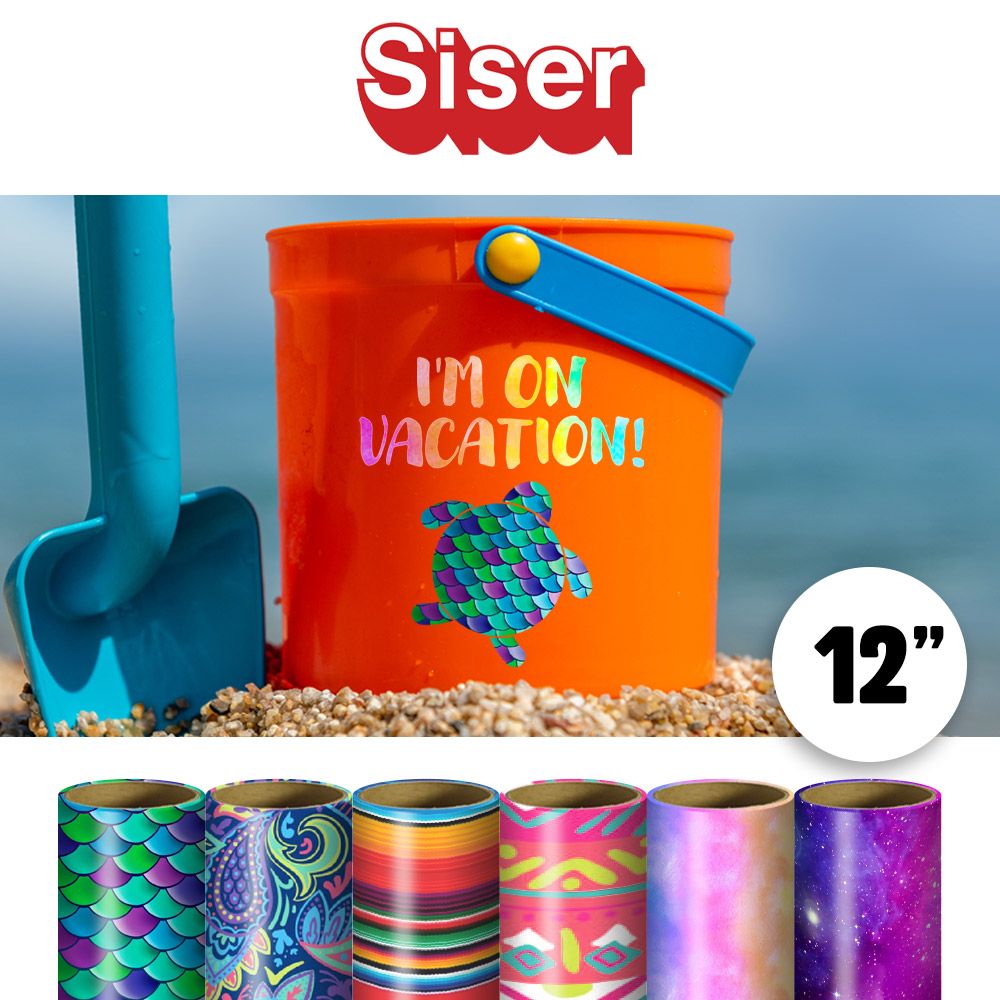 Features
More Information

| | |
| --- | --- |
| Brand | Siser |
| SKU | VN-PVP-Y-12 |
| Vinyl Type | EasyPSV Patterns |
| Vinyl Application | Pressure Applied |
| Finish | Semi Gloss |
| Transfer Vinyl Ideal Applications | Wood, Windows, Glass, Metal, Ceramic, Plastic, Mirror |
| Vinyl Thickness | 3.9 mils |
| Transfer Vinyl Max Colors | Layerable |
Features
Width: 11.5" +/- (may vary in size)
Resources
Siser PSV Pattern Vinyl
Application Instructions
Place EasyPSV® with the liner side down and cut your design. (DO NOT reverse/mirror your design.)
Weed excess vinyl.
Remove the application tape's paper liner and place tape on top of EasyPSV.
Burnish with a squeegee.
Lift the application tape and EasyPSV away from the paper liner.
Place the application tape on your desired object.
Burnish with a squeegee to fully adhere the design.
Gently peel away the application tape, leaving just your EasyPSV design on the object.
Siser EasyPSV Vinyl Cutter Settings
Cricut Cutters Settings
Blade: Standard
Setting: Vinyl
Galaxy Cutters Settings
Blade: 45°/60°
Gram Force: 55-60
Speed: 180mm/s
*Blade Advancing Varies
Roland Cutters Settings
Blade: 45°
Gram Force: 80-110
Offset: 25
Speed: 50 cm/s
Silhouette Cutters Settings
Blade: Standard, 3
Material: Vinyl, Glossy
Speed: 7
Force: 8/s