Only for use in the Virtuoso SG400 and SG800 printers.
ChromaBlast-HD is a professional digital heat transfer ink for white and light colored cotton and cotton-blend fabrics. Bright, beautiful digital heat transfer inks designed to work with Virtuoso HD Garment Decorating Systems. Standard Cartridges - C, M, Y (29ml) K (42ml)
IMPORTANT: All Chromablast Products
For use on white & light colored cotton/cotton-blended fabrics only.
It's recommended to use a separate sublimation printer for Chromablast. Switching between Chromablast and Sublijet inks can cause ink contamination and possibly clogged lines.
Chromablast Inks to be used with Chromablast Media sublimation paper only.
In Stock - Available for immediate delivery
CHROMABLAST HD INK MAGENTA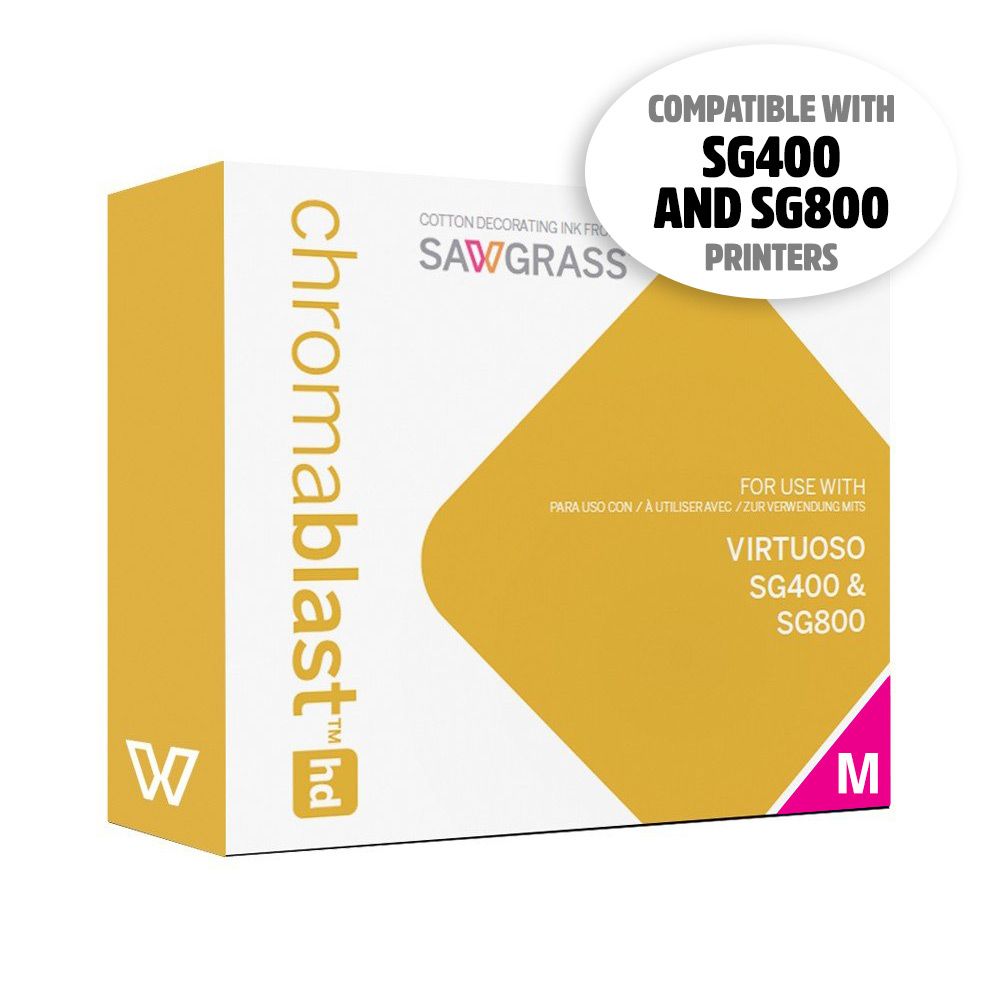 Features
More Information

| | |
| --- | --- |
| SKU | SI-238 |
| Compatible Printer | SG400, SG800 |
Features
Convenient, Reliable Single-Use Cartridges - Optimize the performance and life of your printer with our closed-cartridge systems that provide clean and convenient ink delivery without the time, mess, hassles and waste of manually pouring bulk ink. Plus, our factory-sealed, single-use cartridges eliminate outside contamination, maintenance costs and downtime associated with bulk ink systems.
Commercial Colorfastness - Other digital transfers may initially look OK, but only ChromaBlast has commercial quality colorfastness. Keep your customers coming back with prints that stand up to repeated washing!
High-Yield & Low Imaging Cost - For maximum yield and low imaging costs, ChromaBlast-HD inks have a high density of pigment dyes. Our high-yield gel formulation delivers not only the lowest possible image cost, but larger color gamut than ChromaBlast-R, ensuring the most vibrant colors ever. With imaging costs typically less than 5% of the selling price, digital decorating with Sawgrass inks is more profitable than ever.