50% Off! Discount applied in cart.
Get 50% off any Siser EasyPatterns HTV. Add to cart to see discount.

EasyPatterns are the wow factor you're looking for! Available in several colors and patterns for a variety of niches, there's bound to be a pattern that's perfect for that next project. If you like the trendy options of EasyPatterns then you'll love the easy cutting, weeding, and application. The pressure sensitive carrier allows for quick and simple weeding and releases easily with a hot peel after application. With a semi gloss finish and soft hand, EasyPatterns are the star of the show even when applied with a home iron! EasyPatterns require the use of Siser TTD High Tack Mask for application.
Price Per Yard (per color)
Siser EasyPatterns Vinyl By The Yard 12"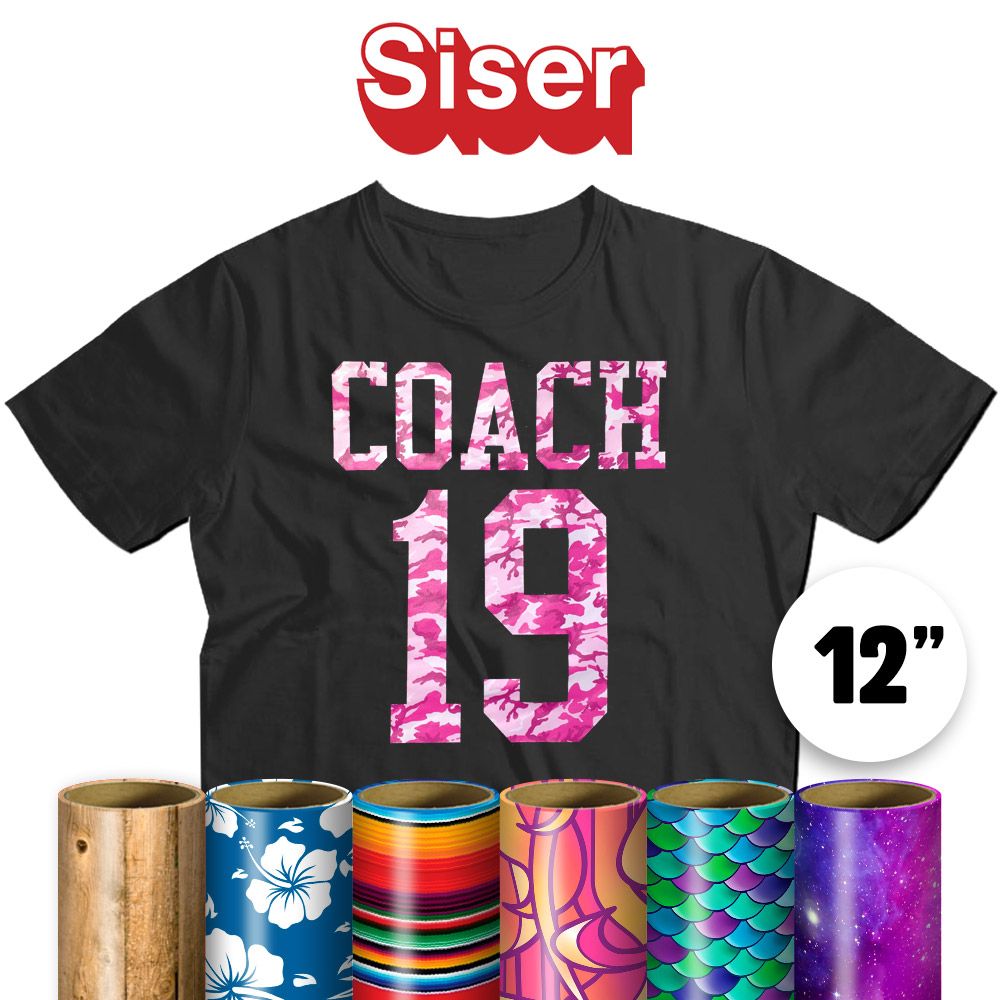 Features
More Information

| | |
| --- | --- |
| Brand | Siser |
| SKU | VN-EP-Y-12 |
| Vinyl Application | Heat Applied |
| Vinyl Type | EasyPattern |
| Finish | Semi Gloss |
| Transfer Vinyl Max Colors | Layerable |
| CPSIA Certified | Yes |
| Home Iron Compatible | Yes |
| Transfer Vinyl Ideal Applications | 100% Cotton, Cotton/Poly Blends, Leather, 100% Polyester |
| Vinyl Thickness | 3.1 mils |
Features
Width: 12" +/- (may vary in size)
Length: By the yard.
Carrier: Pressure sensitive backing.
Maintenance
Do not dry clean.
Machine wash COLD / mild detergent.
Dry at normal setting.
No chlorine bleach.
Wait 24 hours before first wash.
Resources
Siser EasyWeed Pattern Application Instructions
Application Instructions
100% cotton, Poly/cotton blends, 100% polyester, Leather, Lycra®/spandex
Cut material – don't mirror!
Weed excess material
Mask with TTD easy mask or TTD high tack mask
Cover design with kraft paper or heat transfer cover sheet
Preheat garment for 2-3 seconds
Apply design at 305°f/150°c
Use medium pressure for 10-15 seconds
Peel carrier hot or cold
Siser EasyWeed Pattern 18" Application Instructions
Application Instructions
100% cotton, Poly/cotton blends, 100% polyester, Leather, Lycra®/spandex
Cut material. Make sure to mirror!
Weed excess material
Cover design with kraft paper or heat transfer cover sheet
Preheat garment for 2-3 seconds
Apply design at 305°f/150°c
Use medium pressure for 10-15 seconds
Peel carrier hot or cold
Siser EasyPatterns Vinyl Cutter Settings
Brother Cutter Settings
Blade: 2
Cut Speed: 1
Cut Pressure: 1
Brother Scan N Cut DX Cutter Settings
Blade: Autoblade
Cut Speed: 5
Half Cut: Auto
Cricut Cutter Settings
Blade: Standard
Setting: Iron-on
Galaxy Cutter Settings
Blade: 45°/60°
Gram Force: 60-65
Speed: 300mm/s
*Blade Advancing Varies
GCC Cutter Settings
Blade: 45°
Gram Force: 8-9
Tool: CB09U+0
Speed: 30 cm/s
Juliet/Romeo Cutter Settings
Blade: Juliet 45°
Force: 5-10
Offset: 0.250
Speed: 10
Roland Cutter Settings
Blade: 45°
Force: 80g-90g
Speed: 25-50 cm/s
Silhouette Cutter Settings
Blade: Standard, 3
Setting: heat Transfer
Material: Smooth
Speed: 8
Thickness: 6