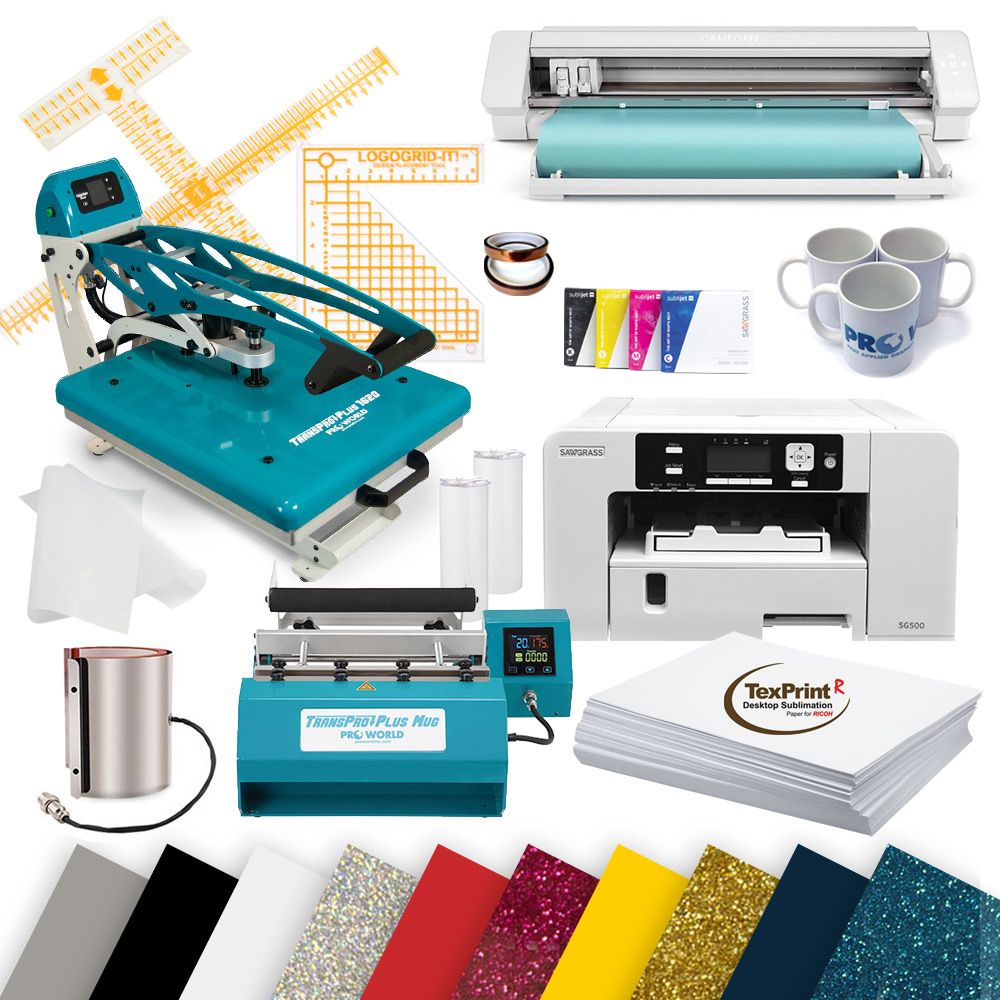 Starting At $2,755!
(List Price: $2,887)
Get started with our super starter package and save over $132 (compared to purchasing items separately). Package includes what you need to start making money with heat press, vinyl and sublimation products.

One of our most popular - all in - packages. For just $2,755 you can get all you need to start or expand your business. This package comes with the Virtuoso SG500 printer, Sublijet-UHD inks, Texprint-R paper, Creative Studio, Mug Press with a case of mugs, GCC vinyl cutter along heat transfer vinyl, TransPro Heat Press, and helpful accessories.
Heat Press, Sublimation Printer & Vinyl Cutter
The TransPro® heat press is ideal for heat applying transfers to such items as t-shirts, jackets, mouse-pads, tile and more. The Virtuoso sublimation printer delivers high-quality color output, fast-drying viscous ink technology to produce compelling color documents that won't smudge or bleed. Sublimation printing is designed for hard surface polymer coated products and white or light pastel 100% polyester fabric. The Silhouette Cameo Pro 4 vinyl cutter offer fast speed and precise cutting quality. Sublimation printing is designed for hard surface polymer coated products and white or light pastel 100% polyester fabric. We recommend using Texprint-R paper for the best results. See 'Features' below for more details.
TransPro Plus Mug Press
Our next generation of TransPro Mug Presses has arrived! The extra long heating element gives you the ability to easily print any size skinny tumbler - including a 20oz or 30 oz skinny tumbler! The digital control panel with colorful display is simple and the stable structure makes this machine light weight and easy to operate. This press also includes a standard mug heating element to print 11 oz or 15 oz mugs and 2, 20oz skinny tumblers to get you started. We also offer other interchangeable heating elements (sold separately) to expand the type of drinkware you can sublimate on. We offer a wide latte style for printing 15 oz tapered drinkware, and a larger standard style for printing on a 30oz tumbler.
FREE CreativeStudio
CreativeStudio is the easy-to-use Online Designer and Stock Design Library that lets you create designs from your computer or tablet on any OS. With hundreds of templates, thousands of images to choose from you can download virtual samples for e-commerce or customer approval. There is a full catalog of sublimation blanks at your fingertips and there is no desktop graphics software or clip art to buy.
Upgrade Options
Upgrade to the GCC Vinyl Cutter Expert II LX. You get all the functionality of the Expert II plus contour cutting ability.
Everything Else!
You get a set of 4 color (CYMK) SubliJet-HD Ink standard-capacity full cartridges, 110 sheets of our 8.5" x 11" sheets of TexPrint-R sublimation paper, 6 sheets of Siser Easyweed and 4 sheets of Siser Glitter heat transfer vinyl, 36 - 11 oz. white mugs, a Sof-Fusion Pressing Pillow, a Graphic Alignment System to perfectly align your graphics, a non-stick sheet to prevent transfers from bleeding through onto the back of the garment, and heat sensitive transfer tape.
Features
More Information

| | |
| --- | --- |
| SKU | BUN-005 |
| Press Size | 16" x 20" |
TransPro Plus Semi-Auto16 X 20 Heat Press Features:
Platen Size: 16x20"
Pressure Display: Yes
Temperature Range: Max.430°F
Easy Assembly of the Control Box to the frame is required
Preheat: approximately 20 minutes to reach 356°F
"RAMLOCK" Quick Change System for interchangeable platens
Auto-sleep Mode
Over The Center Pressure Distribution
Threadable Lower Platen
Bottom Pad Cover and Non-Stick Sheet included
Slider-out Lower Platen
Interchangeable Control Box
Emergency Stop Button
Power(120volt): 1800W/16.4Amps
Auto-open/Manual: Optional. "Ramspin" system
Time Range: 0~999S
Interchangeable platens (sold separately): 4"x4"; 11"x15"; 8"x10"; 6"x20"; 6"x10"
Machine Size (open): 30x17x40"
Packing Size: 33x21x34"cm
Packing Weight: 120 lbs
1800W/ 8.2 AMPS
Certificate: CE,FCC
Programmed Presets
Holding down the circle for 3 seconds will allow you to go to the presets until you reach the one you want.
Siser Easyweed: 305 F for 12 seconds
Supacolor and Siser Glitter: 320 F for 15 seconds
Hot Peel Transfer: 395 F for 10 seconds
Sublimation on Polyester: 400 F for 45 seconds
Sublimation on Aluminum: 400 F for 60 seconds
TransPro Plus Mug Press
30oz Skinny Tumbler size 11.8" heating element included
11oz/15oz Standard mug heating element included
Please note: If printing a design that wraps completely around a skinny tumbler, you will need to rotate the tumbler a quarter turn when printing to ensure the design is printed fully.
Power (120volt): 300W/2.8Amps
Temperature Range: Max.430℉
Time Range: 0~999S
Additional Interchangeable Platens Sold Separately
Machine Size: 14.5"x 12.5"x 9"
Packing Size: 17"x 15" x 12"
Certificate: CE, FCC
Virtuoso Sublimation Printer
Maximum Media Size: SG500 - 8.5" x 14", SG1000 - 13" x 19" (bypass tray required for this size and sold separately $208.00) Without the bypass tray the printer can print 11x17.
Print Speed (Prints/Hour)

High Speed: 156 @ 600 x 600 dpi
High Quality: 72 @ 600 x 600 dpi
Adv. Photo: 22 @ 1200 x 1200 dpi

Ink Set: CMYK
Color Management: Windows OS: PowerDriver; Mac OS: MacProfile
Maximum Resolution: 600 x 600 dpi
Media Tray: 250 Sheets
Ink Delivery System: High-Capacity Cartridges
Options: 100 Sheet Multi-Bypass Tray; (2) 250 Sheet Paper Feed Units
Estimated Image Cost: $0.60
Image cost and print speed estimates are provided for platform comparison purposes only. Results will vary depending on many variables including image size, coverage, color management settings, etc. Sample image is approximately 8" x 10" / 20 x 25 cm with 50% coverage.
System Requirements:

Minimum RAM: 2 GB
Recommended RAM: 4 GB
Recommended CPU: Dual Core 2 GHz
Min. Free HD Space​: 10% Free
Silhouette Cameo® 4 Pro Features
Cutting Area: 24 in. x 24 in. with a cutting mat, 24 in. x 60 ft. with lined media
Matless cutting options available depending on material type. Materials with liners or backing, such as vinyl, heat transfer, and sticker sheets can be fed directly into the Cameo 4 without a cutting mat. The Cameo 4 also offers a special "Pop-out" cutting feature for paper and cardstock materials where a cutting mat is not required.
Maximum Media Thickness: 3 mm (118.11 mils)
Maximum Cutting Force: Carriage 1: 210 gf - Carriage 2: 5 kgf (highest in machine class)
Interface: USB 2.0 high speed / Bluetooth®
Unit Dimensions: 34.5 in. x 7.68 in. x 6.69 in. (87.6 cm x 19.5 cm x 17 cm)
Unit Weight: 19 lbs 6.4 oz (8.8 kg)
Shipping Dimensions: 39 in. x 12 in. x 9.75 in. (99.1 cm x 30.5 cm x 24.8 cm)
Shipping Weight: 26 lbs 1.6 oz (11.84 kg)
Warranty: One year parts and labor (Limited to USA and Canada only)
Silhouette Studio® Software System Requirements
Operating System: PC (Windows 8 and higher) OR Mac (OS X 10.14 and higher). Chromebook is currently not supported.
Internet connection: Strongly recommended for updates and access to the Silhouette Design Store. Required to activate a license key for upgrade.
RAM: 4 GB of RAM
Processor: 2 GHz (or faster) processor speed
Memory: 2 GB hard disk space
USB Port: USB 2.0 Port (or higher)
NOTE: These represent the minimum requirements. Higher specifications are recommended to improve software performance. Some features, such as Image Effects may not be supported with older graphics cards.
Silhouette Studio is a desktop-only application for PC and Mac. It is not currently supported on Chromebook, iPad, and other tablet and mobile devices.
Wi-Fi Requirements
Resources:
Siser EasyWeed Application Instructions
Application Instructions
100% cotton, Poly/cotton blends, 100% polyester, Leather.
Cut in reverse
Weed excess material
Preheat garment for 2-3 seconds
Apply design at 305°F/150°C
Use medium pressure for 10-15 seconds
Peel carrier hot or cold
Wait 24 hours before first wash.
Siser Glitter Application Instructions
Application Instructions
100% cotton, Poly/cotton blends, 100% polyester, Leather.
Cut in reverse
Weed excess material
Preheat garment for 2-3 seconds
Apply design at 320°F/160°C
Use medium pressure for 10-15 seconds
Cover with a non stick sheet.
Peel carrier warm
Wait 24 hours before first wash.